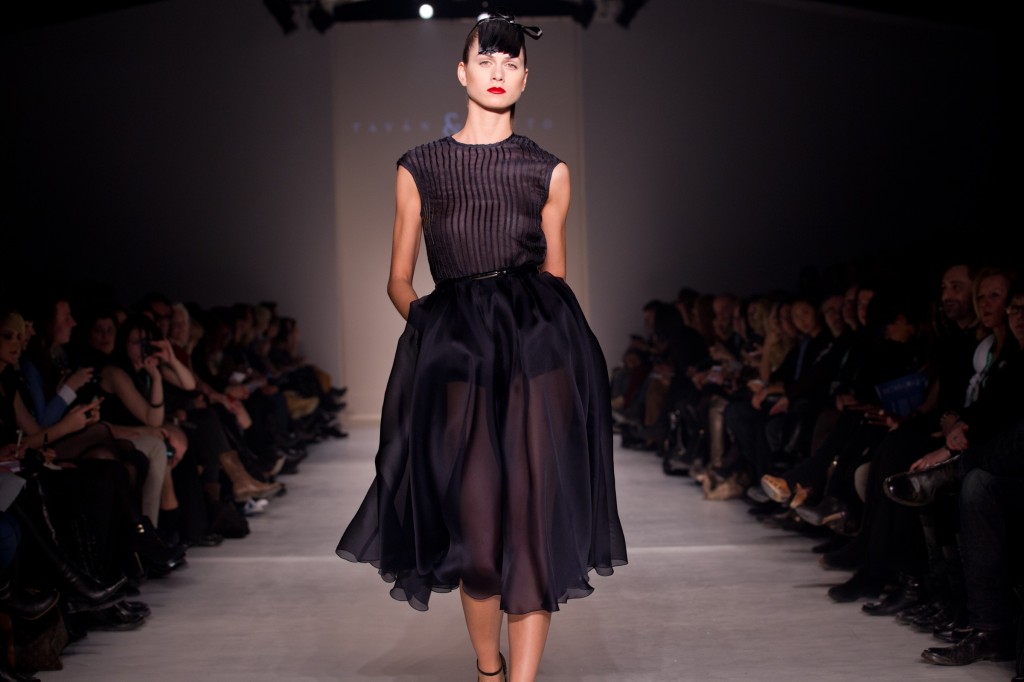 MONTREAL, FEBRUARY 6th, 2012- In a very Lanvin inspired styling, the fall-winter 2012-2013 collection portrayed a woman in French mustard, Scottish caramel and invigorating bronze tones. The collection by Tavan and Mitto explored a modern, architectural silhouette, featuring flowing and oversized garments inspired by menswear. They bring a retro twist that gave the classic and timeless Hepburn look a whole new meaning, more graphic and modern.
This season, the Duo's driving vision of femininity, elegance and sensuality bring the focus on structure and softness that gave their creations a timeless appeal.
All the silhouettes were so elegant and splendid featuring full skirts, from mini to maxi, palazzo pants and oversized coats, all declined in luxurious fabrics such as mohair, silk and organza. The shapes enhanced the natural beauty of women and allowed the designers to play a subtle game of sensuality with their garments.
We really appreciated the contrast between heavy and sheer fabrics, strong and soft color; creating metaphor between the heaviness of winter and the freshness of snow.
A collection that certainly pleased the eyes.
[ MARIE-CHARLES]
Photo credit: Jimmy Hamelin