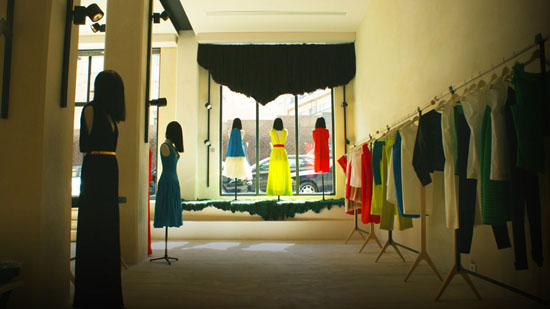 DALLAS & BEIRUT, Mar 29, 2011/ FW/ — Simply called the MRK Boutique for the acronym-enamored world, the first ever Maison Rabih Kayrouz store opened its doors in Dec 2010 in Beirut's new Port district.
At close proximity to the Beirut City Center, this unconventional spot seemed the most appropriate location for a designer who has always defied the mainstream.
Rabih Kayrouz's idea was to create an area with fellow designers that would gather art, design & fashion in one location. He contacted Karen Chekerdjian (furniture and product designer) and Johnny Farah (leather goods designer and owner of IF boutique) to share his vision of opening their respective boutiques in that area.
The result is a large space that appears simple from the outside but increases in complexity as you walk in the boutique. Inspired by the 1920's, the 200-square-meter space captures the essence of this era with a contemporary twist.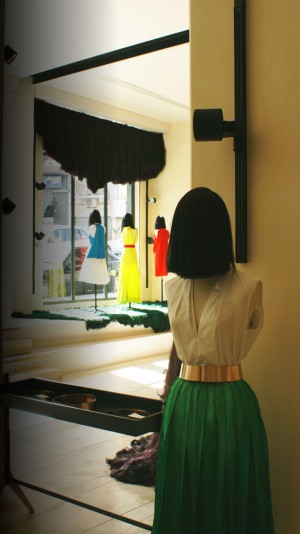 In celebration of his new boutique, Rabih Kayrouz held an installation last February to unveil his Spring / Summer 2011 collection and introduce his new space.
Collaborating with Beirut-born and Paris-raised artist Najla El Zein, the Maison Rabih Kayrouz new collection was presented in a very avant-garde light as Najla used the HAIR as the focal point! To Najla, the hair characterizes a woman's femininity at its best.
"Maison Rabih Kayrouz is well known for embracing the femininity of the female body. Consequently in order to properly portray this, it felt natural to dress-up this boutique with hair," said Najla El Zein.
To emphasize this, brown, thick, sensual hair has been interpreted through different forms: a mountain, faces, curtains and green spaces which in turn represents the WOMAN.
"The mountain symbolizes ELEGANCE, BEAUTY & STRENGTH; the faces of the models hidden by hair: MYSTERY; the curtains: FLUIDITY; the green spaces: NATURE," explained Najla.
As a result, the boutique became ENIGMATIC, the mass of hair transforms the space into a new dimension, one of FEMININITY.
[MARI DAVIS]
Photos courtesy of Maison Rabih Kayrouz