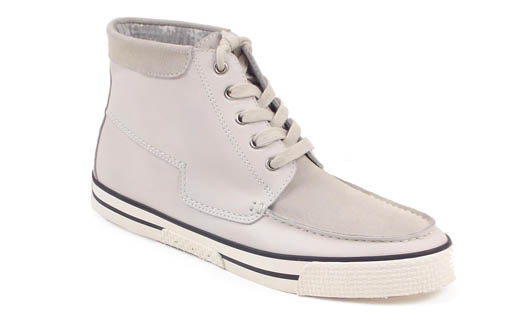 NEW YORK, Mar 30, 2011/ — Rockadelic Spring shoes will begin to arrive in stores this week, including top-selling styles updated in new colors and introducing brand new styles, as follows:
The top selling style for Rockadelic, the Lick is a worn leather/oiled suede casual deck boot featuring moc toe and white contrast on an athletic inspired sole, with printed fabric lining.
New for Spring, the Mercy is a deconstructed boat shoe with moc toe- an edgy twist on a recognized classic, featuring pulled stitch work, butted seam, and an all-over worn out and faded feel.
This worn leather/oiled suede unlined boat shoe is a versatile staple. Featuring a moc toe and white contrasting nylon trim with an athletic inspired sole. Now coming in new olive green colorway, Fatigue.
Each Rockadelic shoe has a full-foam memory sock with premium soft fabric or leather linings, dependent upon style and ease. Rockadelic styling mixes various elements in each distinct shoe.
Creative Director Alison Muskat is heavily influenced by athletic product and has sampled many of the trends seen in athletic urban-chic styles, including heavy goring, to create dress shoes with hints of athletic footwear trends.
She takes classic, traditional shoes and reinvents them by using pristine finishes, exciting ornaments and material experimentation and twists them in a way that is reminiscent of styles of the past while presenting fresh new ideas.
Rockadelic is available at specialty stores across the US and Canada, including Fred Segal Feet, Oak/a.ok, Revolve Clothing (online), Atrium, and many more.