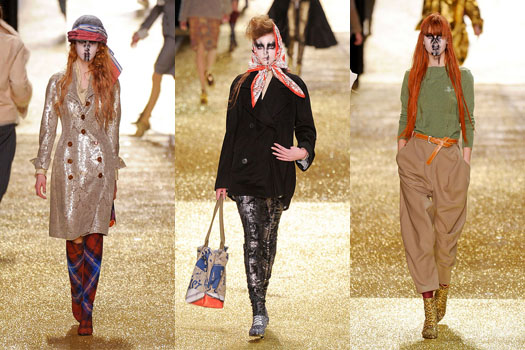 PARIS, Mar 5, 2011/FW/— A true production of a fashion show, Vivienne Westwood never fails to entertain and impress. This season, Westwood took a global inspiration in creating her collection. Fashion is global, drawing influence from everywhere in the world. In the Westwood world, you can wear anything, anything goes.
The World Wide Woman cultivates her values for the sake of our planet and all who live on her. In the hopes that she is growing more powerful and in numbers, in touch with the wonder of reality, controlling her man through the fire of her imagination and vision.
For the woman who is interested in fashion, she dresses to look important. Westwood delivered these types of pieces- show stoppers, those that capture and retain your attention in their beauty and impressiveness. The braver the woman, the easier and more beautiful is the woman who makes the dress her own. In the Vivienne Westwood world, fashion creates the open spaces that allow for love and playfulness to reign supreme.
Gold sequins, billowing silhouettes, global prints and dramatic hair and makeup- this was a collection fit for a true fashion lover. Finishing the show with a corseted bridal gown, the model even threw a bouquet into the audience. Raining gold confetti and an energetic atmosphere set the mood and succeeded in showing us all the noble playfulness that is the Westwood woman this season.
[LINDSAY McCALLUM]
Photos courtesy of Elle.com
Paris Prêt-a-porter Fall 2011