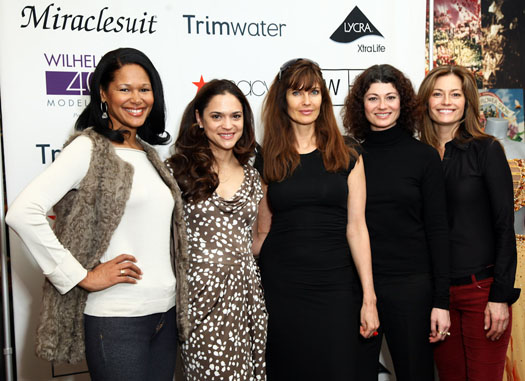 NEW YORK, Mar 7, 2011/ — Wilhelmina Models announced Thursday the WILHELMINA 40+ MODEL SEARCH, a nationwide effort to find women ages 40 and over who are both beautiful and inspirational.
Confident, dynamic women ages 40 and above are invited to register online starting March 3rd at www.wilhelminamodelsearch.com  or in person at one of the several open casting calls across the country. Wilhelmina's top agents will be scouring entries until the contest closes on May 24th.
The ten finalists will be announced this summer at Macy's Herald Square, and the winner will be chosen to join Wilhelmina's elite roster.
"Throughout our years in the industry, Wilhelmina has always been committed to representing diverse beauty," says Wilhelmina President Sean Patterson. "The WILHELMINA 40+ MODEL SEARCH is the perfect opportunity to discover the next sophisticated model that is gorgeous inside and out, while empowering and inspiring women of all ages."
The grand prize winner will receive a Wilhelmina modeling contract, a photo shoot courtesy of Miraclesuit® and a makeover by WILHELMINA 40+ MODEL SEARCH celebrity style advisor Randall Christensen, the Emmy® Award-winning costume designer of ABC TV's "Dancing With the Stars."
The Search
Open to women ages 40+
Applicants will enter online at (www.wilhelminamodelsearch.com), by attending in-person casting calls, or by mailing in their favorite photo and brief personal summary
Entry fee: $20
Each applicant will receive a $20 coupon to apply towards a Miraclesuit swimwear purchase at Macy's
A panel of judges consisting of Wilhelmina talent scouts and Celebrity Costume Designer, Randall Christensen, and a representative of Miraclesuit, will review all entries
The search contest runs online from March 3, 2011 – May 24, 2011 (www.wilhelminamodelsearch.com)
A series of four nationwide casting calls will take place
March 12, 2011 – New York, New York – Wilhelmina Models headquarters
April 9, 2011 – Miami, Florida – Macy's at Aventura Mall
May 21, 2011 – Chicago, Illinois– Macy's at State Street
May 21, 2011 – Los Angeles, California – Macy's at Southcoast Plaza
Finalists to be announced at Macy's Herald Square June 30, 2011 – NY, New York
THE WILHELMINA 40+ MODEL SEARCH is sponsored by Miraclesuit®, Xtra Life LYCRA® fiber, Macy's and Trimwater (the official beverage of Wilhelmina Models).