DALLAS, Apr 7, 2011/ FW/ — Crosses, scapulars, rosary beads and medallions are usually associated with religion than with fashion. But designer Tami Morris changed that perception when she launched Bella Rose, a jewelry line that specializes in jewelry crafted with antique/vintage holy medals and rosary beads.
"It was an inheritance of sorts," Tami Morris told FashionWindows during an interview at the Bags, Baubles & Bites event that launched Bolarti, Bela Rose and My Private Chef in an exclusive event last week in Dallas.
"My mother was a quintessential travel during her life and her favorite places to go are religious – the Vatican, Jerusalem, Fatima and Lourdes. I knew that she collected holy medals, I just did not realize that she actually accumulated a sizable collection during her lifetime," related Tami.
After losing her mother to cancer and soon after discovering a collection of her hidden holy medals, Tami found another creative outlet. Using the religious medallions as charms or the focal point of the jewelry, Tami strung one-of-a-kind pieces that were an instant hit among her family and friends.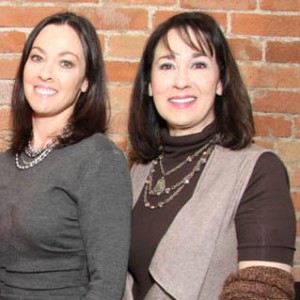 Rosary beads were turned into bracelets; crosses and medallions into charms and the other artifacts as inherent parts of the jewelry. The line was immediately snapped by SWAG at Northpark and available online at LoveMySwag.com.
Bella Rose (which happened to be the first names of Tami's two daughters) has already caught the eye of Johnny Depp and been seen on Jon Bon Jovi and Anne Rice; quite a celebrity following already for a label that is barely 6 months old.
Bella Rose showcases museum quality antique jewelry. All of the medals used in their line, whether pulled from the original Tami's mother's collection or sought after, are of European origin and age from 50 to 150 years.
Tami Morris, together with her sister Katy Palermo who manages the business while Tami takes care of the creative side, take an exhaustive search to always find the highest quality and most valued medals within France, Belgium and Italy; each medal has a sacred origin with some even bearing past inscriptions to loved ones.
Bella Rose also accepts commissioned jewelry projects; clients can bring their own medals for Tami to incorporate into a custom designed piece which can, in turn, become a family heirloom. And when desired, medals with extreme rarity can be casted for use in multiple designs or with multiple clients.
[MARI DAVIS]