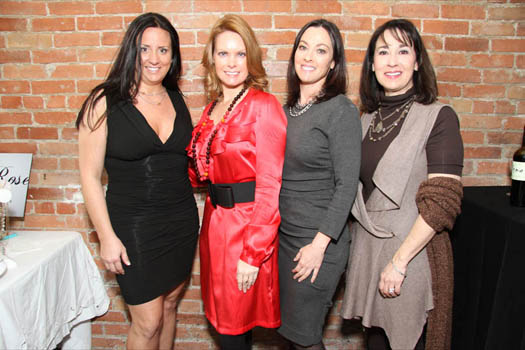 DALLAS, Apr 6, 2011/ FW/ — Traditionally, fashionistas and foodies do not go together, but on March 30th, Dallasites broke that rule with Bags, Baubles & Bites, a fashion party that featured pochettes, antique jewelry and gourmet food.
Formally opening its "kitchen", My Private Chef debuted in Deep Ellum which also marked the introduction of Bella Rose jewelry line and Bolarti handbags to the Dallas social set.
A very intimate party that was really more of a gathering of friends than a business gala opening, Holly Muller, owner of My Private Chef entertained her guests with a flavorful menu that is healthy and celebrates a reduction in body fat and thus promoting weight loss while also deterring side effects to allergies.
For Holly Muller, who has had formal training as a chef, cooking was more of a hobby for most of her life. It was not until 2004 while on a year's sabbatical in St. Thomas from her corporate job that she pursued it as a career when she decided to work as a chef in a private yacht.
As her corporate position eventually beckoned from Phoenix, the taste of the bubbling future resonated with Holly. She sustained her kinship with cooking in Arizona as a chef's assistant at Sur La Table outside of her 9 to 5 role.
It wasn't until her father was diagnosed with heart disease however that Holly carved out her culinary alcove. Once her father's health declined and her nephew began a battle with debilitating allergies she made her final exit from the demanding day job.
With family well-being in mind, she carefully crafted a menu to deter sodium, fat, gluten, preservatives and other betting ingredients. Her dishes were an immediate hit with her family and soon her outlying network. From there, My Private Chef was born!
A personalized cooking service, My Private Chef offers freshly prepared globally inspired meals that enhance a healthy lifestyle. Holly Muller, founder and chef, has an evolving menu of home-grown recipes inspired by her exotic travels and family health concerns.
As the demand for her dishes mounted, Holly opened a Deep Ellum location of My Private Chef in November 2010. On March 30, 2011, the kitchen's formal opening was held.
My Private Chef
2901 Elm Street
Dallas, Texas 75226
Tel: 214.679.0999
www.my-privatechef.com