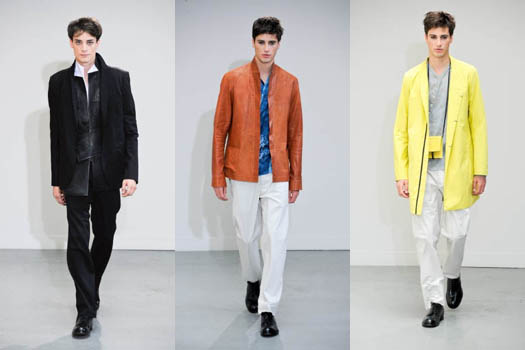 PARIS, June 24, 2011-/FW/ — "Living with Little but thinking big" could be the motto for the Gustavo Lins man this Spring.  The question the designer faced was how to compose a practical wardrobe for hte man intent on doing away with the superfluous and focusing on the necessary.  His response, an on-point range of propositions based in a few key, urban male forms.  Keeping up with sportswear silhouettes, Gustavo Lins proposed a series of variations that juxtaposed the common aesthetics of menswear.
Concerned with the purely practical aspects of clothing, he created his own aesthetic of the minimum, without losing sight of the codes of masculine elegance.  A reversible raincoat in three colors, three jackets- one straight, one biased, one casual like a cardigan- and three shirts- one in poplin, another like a jacket, and a leather shirt.
The suit was also addressed, in a daring version of lemon yellow cotton, a supple version of khaki tricot, and a tuxedo version with a waistcoat with topstitched leather off-cuts.  There were constant combinations possible between top and bottom pieces, different materials, and sportswear and graphic elements influencing materials like leather.
Casual tank tops in supple citrine or turquoise tricot were followed by unique t-shirts, drip-printed in aquatic blue or sandy gold cotton jersey added a fresh touch to the collection and insinuated new codes for luxury.
[LINDSAY MCCALLUM]
Paris Menswear Spring 2012