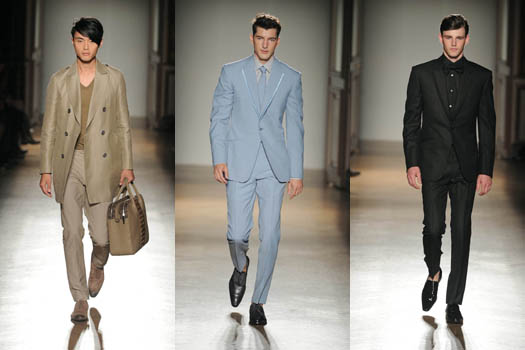 PARIS, Jun 27, 2011/ FW/ — Inspired by the 1970s, Youn Chong Bak sent out a crisp Spring / Summer 2012 collection that were already classics the moment they hit the runway.
With the focus on hand-tailoring, the suits and jackets just fit perfectly be it the rounded shoulders or the gorges. Using cuts and lengths in the minimalist tendency, the whole collection is sharp and well-tailored.
The only male brand registered with the the French Trade Union of High Fashion (Chambre Syndicale de la Couture), Smalto is also paying tribute to couture this season. The 1970s staple Members Only jacket was given an inset at the shoulder and a higher collar for a 21st century look. The safari jacket became citified as it was given a fluid silhouette.
[MARI DAVIS]
Photos courtesy of Smalto
Paris Menswear Spring 2012
[nggallery id=340]