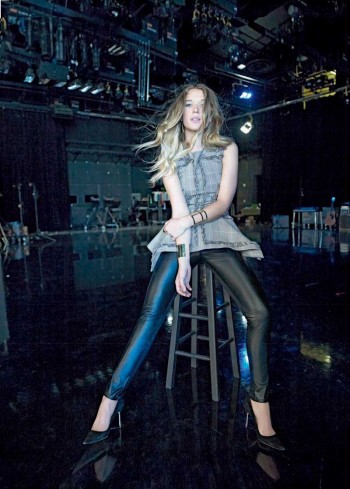 DALLAS, Sep 20, 2013/ — There has always been a synergy between music & fashion and Neiman Marcus is tapping into that with CUSP, a high wattage music experience to be held at Neiman Marcus stores nationwide from September 26-29.
With ZZ Ward and Wild Belle as headliners, their high voltage performances will kick off the first ever CUSP music experience wherein they will perform on stage on September 25th in Miami and Dallas Neiman Marcus locations to kick off the event.
Throughout September, Neiman Marcus will be celebrating the independent spirit of ZZ Ward and Natalie Bergman of Wild Belle as well as the soulful presence of Noelle Scaggs of Fitz and The Tantrums. Renowned photographer Peggy Sirota teamed up with Neiman Marcus to create an advertising campaign inspired by the unique style and independent spirit of these musicians.
Each of the musicians was used as a model for the campaign that features looks from fashion designers Vince, Rag & Bone, Alexander Wang, Robert Rodriguez, and others.
Sirota's images from the campaign will be featured in the October issues of Neiman Marcus' own publication the book, an 8-page spread in the October issue of VOGUE magazine, and regional newspaper advertising. The images, along with style tips, Q&A's with the musicians, Spotify playlists, and other fashionable elements can be found in the September issue of the new CUSP e-magazine and NM's the blog.
To launch the CUSP Event, ZZ Ward and Wild Belle will be performing September 25 in the Coral Gables and NorthPark Neiman Marcus stores (ZZ Ward in Coral Gables, FL, Wild Belle in Dallas, TX).
During The CUSP Event, September 26 – 29, Neiman Marcus stores across the country will host fashion and music-inspired activities in their CUSP departments and offer customers the opportunity to receive a "rocker-chic"-inspired mesh chain link necklace with any regular-priced $300 purchase, plus $50 off any $500 or more purchase.
Store activities will include guest bloggers and/or stylists, DJs, informal modeling and fashion presentations.
Along with VOGUE, Neiman Marcus will host an Instagram sweepstakes during which customers can upload photos of their favorite "rocker chic" outfits and enter to win a $2,500 NM gift card and additional gifts from VOGUE.