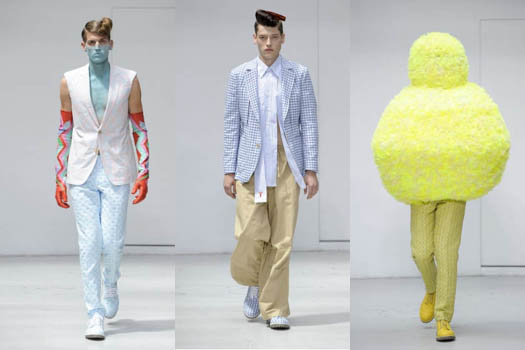 PARIS, June 26, 2011/ FW/ —  In the dream world that is the Walter Van Beirendonck world, anything and everything goes.  Turquoise body paint?  Mix match plaid suits? Plaid shoes? Sure!  Sculptural, neon, tulle-covered costumes? Of course.
This Spring collection was incredibly innovative as Van Beirendonck took his creativity to the next level.  As a preface to his upcoming exhibition at the Antwerp Fashion Museum, the pieces were truly works of art.  Over the last three decades, this designer, the maverick of the Antwerp fashion scene, has become renowned for his colorful designs and spectacular fashion shows.
This season was no different- crossing the ful spectrum of colors, we saw coral, lavender, green, blue, yellow, pink, and orange.  Plus the collection showed us a rainbow of plaids knit to look like kaleidoscopes, and patchwork leather gloves. The silhouettes ranged from mini short suits to  stove pipe pants, short sleeved suit jackets to slashed, spaghetti-like knits, and the signature open-seamed sleeves.
The show-stopper was the finale.  Sending what looked like giant, puffy, neon, tulle covered shapes down the runway.  The first two were mellow, a puffy neon orange jacket made of tulle rosettes, followed by increasingly more and more avant-garde pieces.  A model enclosed in a giant sphere of this tulle and then a pink, egg-shaped tulle piece, it was definitely an entertaining collection this season.
[LINDSAY MCCALLUM]