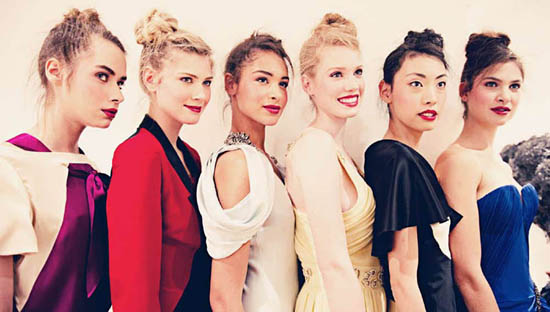 NEW YORK, Jun 24, 2011/ FW/ —The YUNA YANG 2012 Resort Collection, "Pretty to Think So", is the designer's first resort collection since the launch of her line in 2008.
This season, Yuna found her inspiration in Marlena, the lead female character of the novel and film, 'Water for Elephants'. Marlena, the star performer of a 1930's circus group, has a strong and sexy personality; however there are also moments where her innocence and vulnerability are exposed.
Yuna was inspired by the beautiful and empowering Marlena and portrayed her character through this season's looks.
The collection also reflects a 1930's theme, a time of depression when people needed distractions, such as the circus, for them to escape from difficult times. Yuna sees a parallel between the 1930's and today, a post-recession time, where fashion is now also a form of comfort and escape. The roles of beauty and extravagance among reality and truth are translated into Yuna's collection.
Yuna's uses of color and material are very representative of her concept behind each piece. The classic YUNA YANG bead-work this season is emphasized, portraying the shining star in Marlena. The intricate details and light colors reflect her delicate and innocent side, and the lace and deeper colors represent her mysteriousness as well as the general mood and struggles of the period.
The story of the complicated relationship of these themes is subtly told in each look. Yuna's classic sophistications and elegant twist does not disappoint in this collection.