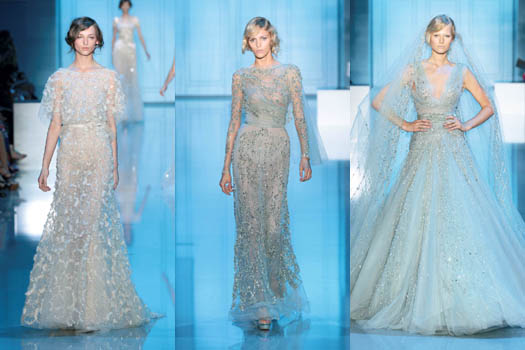 PARIS, July 6, 2011/ FW/ As we would expect from this master of Haute Couture, Elie Saab's Fall collection was a fairy tale of tulle, silk chiffon, and lace.  From the first look to the last, I didn't want the show to end.
He drew his inspiration this season from the heady iridescence of the sun's rays, how the city façades and skyscrapers appear clad in shimmering reflections.  From this urban context, the Elie Saab woman becomes as evanescent as a dream, a vision of lightness draped in frothy, feminine fabrics.
The delicate silhouettes were nearly sheer, hinting at the feminine shape underneath.  Draped in tones like blush, slate blue, and brown tinged with bronze, the gowns were a vision of ethereal elegance.  The bare backed designs were enveloped by embroidered boleros, so light they appeared like butterfly wings.  Sometimes diffused, other times encrusted with jewels, the embroidery alit on breezy ballerina dresses and princess gowns.
Lustrous velvet was a recurring theme as well, underscoring the waist or sprinkled across featherweight embroidery.  Enveloped in a soft blue light, the models seemed to float as they gracefully walked down the runway, fabric flowing behind them or glittering into the audience.
Ethereal, innocent and nostalgic, Elie Saab's Haute Couture collection appeared as a dream swathed in layers of lace and tulle.
[LINDSAY McCALLUM]
Photos courtesy of Elie Saab
Paris Haute Couture Fall 2011
[nggallery id=342]