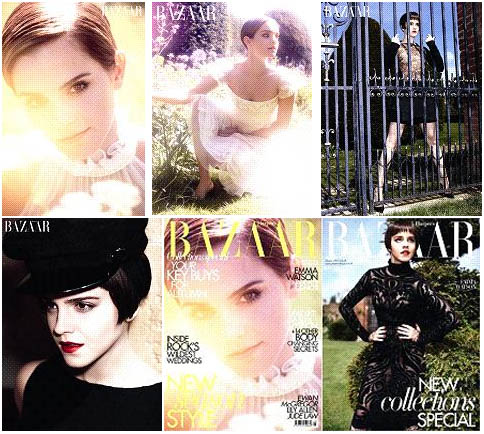 LONDON, Jul 1, 2011/ — On Sale Thursday, 7th July, Emma Watson makes a striking cover girl for the August issue of Harper's Bazaar UK; playing both the innocent ingénue and the sexy screen siren in this exquisite shoot for the UK's leading fashion magazine.
On the eve of her last performance as Hermione in the final Harry Potter Film, Emma Watson opens up to Bazaar, revealing her fear of Hollywood, why she finds it hard to play bad girls and her plans for the future after her shock decision to leave American university Brown.
Emma models autumn's hottest looks from Yves Saint Laurent to Emilio Pucci in a magical eight-page fashion shoot, set in the picturesque surrounds of Petersham Nurseries. Bazaar plays with Emma's image of innocence, exploring a previously unseen darker-edge to the beguiling actress, shot by acclaimed photographer Alexi Lubomirski.
On Hollywood life:
"LA scares the crap out of me. I feel if I have to work out four hours a day, and count the calories of everything I put in my mouth, and have Botox at 22, and obsess about how I look the whole time, I will go mad, I will absolutely lose it"
On why she chose to study in America rather than attend a UK university:
"I felt suddenly very claustrophobic…I thought, 'I can't stay here [UK], I won't be able to concentrate, I won't be left alone.'"
On rumours she left her American university Brown due to peer pressure:
"[Leaving Brown] had nothing to do with bullying, as the media have been suggesting recently. I have never been bullied in my life. Like a lot of other students at Brown, I might spend my third year abroad."
On the fashion world:
"It can be savage and cruel, in that it's prescriptive – you have to look a certain way and fit a certain mould – but also in the way it's made. When I went to Bangladesh, to a factory where the clothes are made [for mass market labels], it was horrifying. There is a cost to cheap clothes – if people could see the inhumane way they're made, they would never in a million years buy them…"
On being the good girl growing up:
"There has never been room in my life for that [rebellion] – I couldn't imagine giving my family any more trouble, it's already been complicated enough. My dad is one of the top international-communications lawyers in the country, and trying to argue with him was a nightmare, so I learnt quite quickly to be good with words. My mum is an incredible woman. She moved back from Paris with my brother and me after the divorce, and worked full-time, supporting both of us. But I felt I wanted to take care of her – I didn't want to give her a hard time."
On hiding her true emotions:
"When I was growing up, my family, particularly my father, were very stoic. I learnt that young, very young. Part of me is very resentful of this British mentality that it's not good to express feelings of any kind – that it's not proper or brave. But I also appreciate it. There's another book that I read when I was very young – 'The Constant Princess' by Philippa Gregory, about Catherine of Aragon – and I know it sounds silly, but I thought, "I've got to be just like her". She was the first wife of Henry VIII and she survived, having been cruelly divorced. I remember being really inspired by that."
On playing bad girls:
"My acting tutor said the hardest thing for me was to get angry. I almost broke down in tears when they tried to get me to be angry. I said, 'I can't do it, I just can't do it.' I keep all of that really bottled up somewhere and I feel unleashing it would be the scariest thing – and to let myself be powerful, sexy, all those things, it's scary for me. [Even playing the bad girl in this shoot] felt a bit uncomfortable and awkward, it didn't come naturally at all
Full interview in the August issue of Harper's Bazaar UK – www.harpersbazaar.co.uk
On sale Thursday, 7th July or see – http://www.harpersbazaar.co.uk/covers/bazaar-august-2011-emma-watson-283