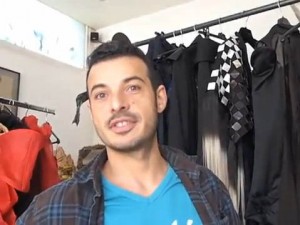 PARIS, July 3, 2011/ FW/— Eric Tibusch is a rare type of fashion designer.  He's the kind with a social conscious for the effect of his creations on the greater good, and a true appreciator of the art of design.  And, this season, for the designer, is a special one in particular.  It is his fifth anniversary collection since showing at Paris Fashion Week.
The designer, who was born and raised on Corsica, has an eye for details and draws his main inspiration from the models and the shape of their bodies.  He is a master of materials, using difficult things like vintage monkey hair, whole crocodile skins, 19th century lace, and other natural and man-made materials.  The thought that goes into each piece pays hommage to the origins of its matieral, the woman who will be wearing it, and the vision of this incredible designer.
Eric Tibusch and his team invited FashionWindows into his private home and atelier in Paris for a preview of the collection.  During the hour we spent talking, noshing, ooh-ing and ahh-ing over his latest creations, the man behind the designs came out and shed light on his creative process.
Beginning with a uber mini dress made of red crocodile skin, his model, dear friend, and artist proudly walked around the atelier showing me the details of the dress.  The construction was incredible and truly kept the original shape of the animal from which it was made.  The collar of the dress was dramatic and erotic, and Eric was truly proud of this creation.
He then showed me the special collection of Nando Muzi shoes brought in from Italy for his show.  Comparing this designer to "the Italian Louboutin" he was beyond excited (as was I) over the sky-high stilettos and chic booties ready to be compliment his pieces.
Next he brought out a model wearing a dramatic, sensual black dress with strategically placed collar wings to hide her "feminine parts," said the designer.  For the runway, he explained, he would leave them unpinned to the dress, so that a bit of skin could be imagined underneath, but for the client, he could easily transform it into a more conservative version.  The dress was made exactly for the model who was to wear it in the show, and it was evident that Tibusch was a master tailor.
The various pieces I was shown from there on out were each more impressive than the one before.  I specifically loved his creative use of hair and fur to accent harder or more structured fabrics, and his technique of patterning a dress with left over crocodile scales to mirror the shape of a skeleton.  This example of his use of every part of the animal skins in his collection is a true testament to his desire to pay homage to the creatures' beauty.
Tibusch stressed to me that he wasn't an advocate of killing animals, but that he preferred to use vintage furs, skins, and hairs in order to make sure the animals weren't killed and then just forgotten.  Instead, his creative use of these materials admires the essence of the animals, and displays their true beauty, respecting their life and not taking advantage of them.
The most impressive of them all was the wedding gown, for which a total of 3,000 hours of work has been done.  This gorgeous, crocheted gown with hand make organza flowers, beading, crystals, and other intricate details was whimsical and artful.  Tibusch told me that his wedding gowns are always very popular among clients, and he loves helping a woman create her dream wedding day by making a custom couture gown based on her body and her preferences.
His collection was full of life, color, texture, and integrity.  The art of his craft was evident and FashionWindows is so grateful for the opportunity to have met him and seen his atelier, where all the magic happens.
[LINDSAY McCALLUM]