BARCELONA, Jul 27, 2011/ FW/ — Move over Scarlett Johansson; Brazilian supermodel Isabeli Fontana is the new face of MANGO beginning with Fall 2011.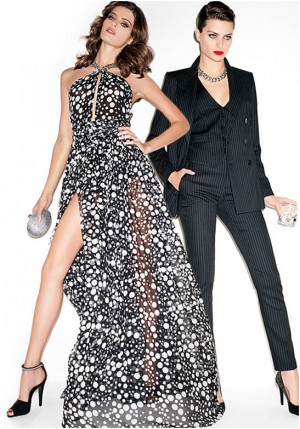 Taking over Scarlett Johansson as the face of Mango might be a hard act to follow, but Isabeli Fontana is holding her with her extraordinary beauty and naturalness. Her style represents the ideal woman that MANGO wishes to dress: an urban, working and independent woman.
The photo shoot took place in a studio in Paris under the orders of the acclaimed photographer Terry Richardson, who managed to immortalize the exotic beauty of Isabeli to perfection.
The model, who said that she felt very honored and satisfied with this collaboration as the new image of MANGO, declared: I had a great time working with Terry. He is really great because he lets me move and be myself in order to create this person, this stylish, yet modern and dynamic woman.
Consequently, it is always a pleasure to be around him. The styling was done by Anastasia Barbieri, while the make-up and hair styling was the responsibility of Charlotte Tilbury and Christiaan, respectively. The Brazilian model was photographed over a white background to emphasize the creativity of Terry Richardson and, above all, to make the clothes the main protagonist.
The outfits reveal a sexy woman who is able to combine her masculine and feminine side to perfection. The color palette focuses on black tones with white touches in the prints.
With this collaboration, Isabeli Fontana is taking over from her predecessor, Scarlett Johansson, who has been the image of the brand for the last four seasons.
Since its beginnings, MANGO has banked on famous faces to feature in its advertising campaigns. Models of the stature of Penélope Cruz, Milla Jovovich, Lizzy Jagger, Karolina Kurkova, Naomi Campbell, Eva Herzigova, Inés Sastre, Claudia Schiffer, Christy Turlington and Diane Kruger have also been images of the brand at various times.
MANGO, which opened its first store in Barcelona's Passeig de Gràcia in 1984, now has over 2,000 stores in 105 countries. It is Spain's second biggest fashion export company and its concept is based on an alliance between a quality product, in accordance with the latest fashion trends, and an affordable price.
The brand image is reinforced by its stores, which benefit from a dynamic image in accordance with the personality of its customers, and represent the calling card for the brand.