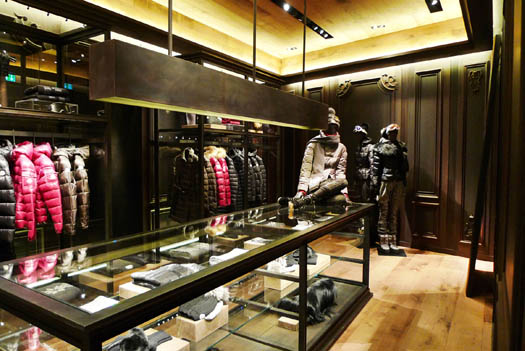 MILAN, Jul 22, 2011/ — Continuing its rapid plan of shop openings, last month, Moncler opened a new single brand store in Vienna, which is an addition to the boutiques already present in Kitzbuhel and Salzburg.
From the heart of Tyrol and the musical touristic circuit, to the vibrant Austrian city, hub of culture, shopping and tourism, Moncler implements a complete and wide-ranging distribution strategy. The Maison aims to continuously increase openings in the major metropolises of the world, to work alongside the already well-established high altitude boutiques in some of the most celebrated winter resorts.
In line with the prestigious positioning in the most important international cities, the 120 square meters boutique in Wien faces onto the prestigious Kohlmarkt, rich in history and situated in the center of the city.
The public is welcomed by a warm and embracing yet modern metropolitan ambience. The internal fit-out, by Gilles & Boissier, plays with oak wood for the floors and ceilings, irregular slats, and French Bosierie in carved wood with floral motifs for the walls. A balanced blend between Alpine and high-end sport style creates a harmony with the values of the Moncler world.
"In the important phase of distribution expansion which Moncler is experiencing, the opening in Wien is a sign of our commitment to increase the direct retail network, also within Europe", declares Remo Ruffini, Chairman of Moncler.
Boutique Moncler
Kohlmarkt, 7
1010 Wien
+43 1 5320619
moncler.com