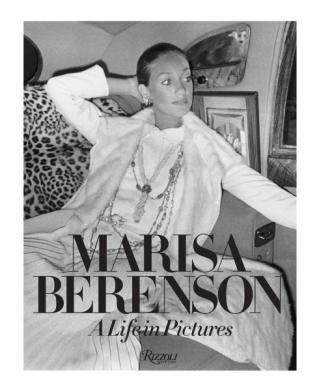 NEW YORK, Aug 18, 2011/ FW/ — Celebrating Fashion's Night Out, Donna Karan is hosting the launch of "Marisa Berenson: A Life in Pictures
" at the Donna Karan Madison Avenue location.
Model, actress and fashion's "It Girl" Marisa Berenson will be at the store on Thursday September 8, 2010, from 5:30pm – 8:00pm for book signing. The Donna Karan boutique has exclusively acquired 50 advanced copies for sale that evening.
"Marisa Berenson: A Life in Pictures" is a lavish and deeply personal visual biography that reveals the life of an extraordinary woman who has been at the center of society, fashion, film, and contemporary culture for decades.
The granddaughter of the legendary designer Elsa Schiaparelli—Berenson's meteoric rise in fashion began at age sixteen, leading to numerous covers—her first was in 1970—in Vogue, Harper's Bazaar, Time, Newsweek, and editorials in countless other magazines.
Berenson's deeply intelligent beauty and feline grace naturally led to a film career where she starred in iconic films including Luchino Visconti's Death in Venice, Cabaret directed by Bob Fosse, SOB with Blake Edwards, White Hunter, Black Heart with Clint Eastwood, Stanley Kubrick's lavish production of Barry Lyndon and, most recently, the critically acclaimed 2010 film, I Am Love.
An introductory text by Hamish Bowles accompanies a collection of fashion editorials, magazine covers, film stills, and candid photos captured by the leading photographers of the day including Richard Avedon, Irving Penn, David Bailey, Hiro, Helmut Newton, Henry Clarke, Norman Parkinson, RobertMapplethorpe, and Steven Meisel, among many others.
"Marisa Berenson is an international icon in the worlds of fashion, film and culture," said Donna Karan. "Her natural elegance graces everything she does."
A selection of 35 photographs and illustrations from the book will be featured throughout the store
Location: Donna Karan, 819 Madison Avenue
Date: Thursday September 8, 2010, 5:30pm – 8:00pm
Marisa Berenson: A Life in Pictures

Hardcover w Jacket / 9.5‖ x 11.75‖ / 240 pps / 300 color photos / $60 U.S., $65 Canadian, £35 UK
Rizzoli New York / ISBN: 978-0-8478-3654-3 / / Release date: October 2011