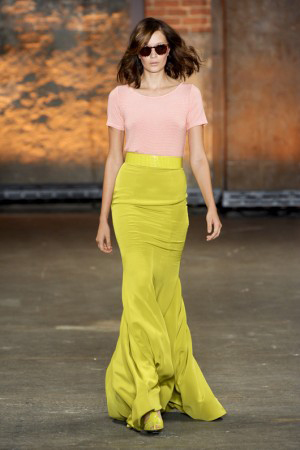 NEW YORK Sept 27, 2011 /FW/ I don't know what woman would not want to spend Spring 2012 in Christian Siriano's latest collection. This season is casual but elegant and features a palate wonderfully fresh.  White and kaki tones play back to an amazing shade of chartreuse green, and the brighter side of coral. The story felt like a crisp and neon approach to the canal streets of Venice.
Siriano took color blocking by the reigns for a collection that embraced simplicity. Crew neck stripe shirts were paired with high waisted, body hugging skirts with hemlines  full of life. The looser is better approach to fit, is a big trend this season. Bright full bodied drawstring pants were worn with crisp white sleeveless button downs or simple solid blouses. Even cropped pants had more ease in the fit and were worn with cardigans or blazers.
We were excited to see what cocktailing had in store. Draped shift dresses and knee length circle skirts were oh so lady like. Simple bodies featured sweat heart necklines and skirts bursting color and texture. Showcasing his dress designing talent, solid ball gowns marched the runway in parade of all this Christian!
photos courtesy of Christian Siriano