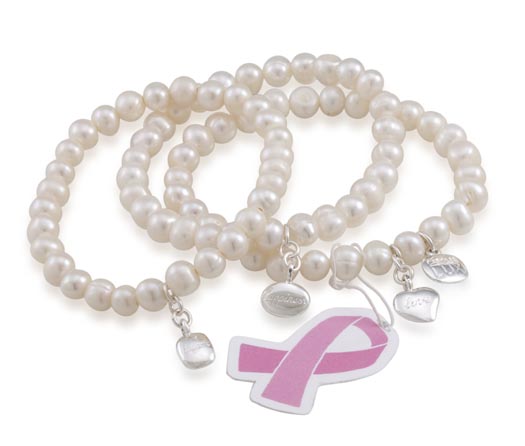 NEW YORK, Oct 3, 2011/ –To raise awareness and to encourage support for those with breast cancer, Carolee has just released a collection of two sets of multi-row pearl bracelets, from which the company will donate a portion of sales to the Breast Cancer Research Foundation.
One is a set of 3 wear-everywhere white freshwater pearl bracelets that retails for $75. For each set sold, Carolee will contribute $10 to the Breast Cancer Research Foundation. The second set is a trio of white, pink, and pewter hand-polished and knotted simulated pearls which retails for $35.
For each of the multi-color sets sold, $5 will be given to the Breast Cancer Research Foundation. Both sets have silver tone charms inscribed with the words "Love", "Happiness", and "Hope" and will be available at Bloomingdale's, Lord & Taylor, and Carolee.com.
www.Carolee.com will also hold a special Breast Cancer Research Foundation fundraising promotion on October 19th and 20th. On these two days, Carolee.com will donate 10% of all online sales to BCRF.
To provide customers with an added incentive, the company will give a 20% discount off their total online purchase. Though BCA bracelets (and other cause-related merchandise) will be excluded from this discount, shoppers will have access to the full range of current collections of quality fashion and classic Carolee jewelry at their fingertips.