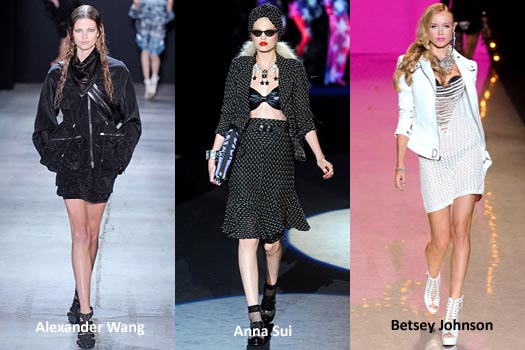 NEW YORK, Oct 3, 2011/ FW/ — In a very eclectic Spring 2012 New York season, designers agreed on two things – sleeves are going down while the hemline is going up!
The Spring / Summer fashion season has always been about lightness and softness. After all, these are the two seasons wherein we see a lot of the sun.
Surprisingly enough, Alexander Wang, Anna Sui, and Betsey Johnson want you to cover up your arms with their spring jackets. But, they want you also to bare your legs! Alexander Wang suggests a pencil cut mini skirt, Anna Sui proposes a peplumed pencil skirt while Betsey Johnson went for a sexy look with a mini knit dress.
Francisco Costa at Calvin Klein Collection and Carmen Marc Valvo saw the ladies in long sleeved dresses albeit with a petal skirt at Calvin Klein Collection and electric pleats at Carmen Marc Valvo.
Chado Ralph Rucci is giving the ladies what he does best – tailored trousers and jacket made of lightweight material. It's springtime after all!
Marc by Marc Jacobs and Nicole Miller want you to wear shorts but wants you to wear long sleeves. And Douglas Hannant went for glamour, a mini shift dress paired with a spring coat!
Eclectic isn't it; but delightful nonetheless!