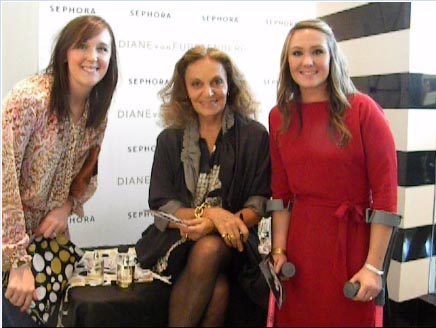 DALLAS, Nov 1, 2011/ FW/ — With the welcoming Dallas beauties wearing the iconic wrap dress, fashion icon Diane von Furstenberg arrived at NorthPark Center with the girls singing "Be the woman you want to be" in military cadence style.
Ms. Furstenberg who was in town to launch her first eponymous perfume "Diane" was so touched by the welcome that she took her digital camera out and took photos of the girls. "Be the woman you want to be" is the catch phrase of "Diane."
Based on Ms. Furstenberg's two favorite flowers- the frangipani and the violet, "Diane" is also the first perfume that bears her name, hence making it doubly personal.
When asked why she chose two very different scents, Ms. Furstenberg explained, "The perfume is about seduction. With the frangipani a tropical flower that grows in the Pacific its smell reminds you of the sun and makes you feel optimistic and happy. The other one is the violet. It grows in the woods. You smell it when you step on it. It fills your senses."
"It's the yin and the yang, two opposites," Ms. Furstenberg continued. "And with that contrast comes seduction."
Considered an everyday scent, "Diane" is offered as Eau de Parfum, Eau de Toilette and as a Body Lotion. The three reacts differently with your body chemistry and thus allowing it to be worn any time of day and during all four seasons during the year.
Diane is now available in Sephora stores nationwide and Diane von Furstenberg boutiques nationwide.
[MARI DAVIS]