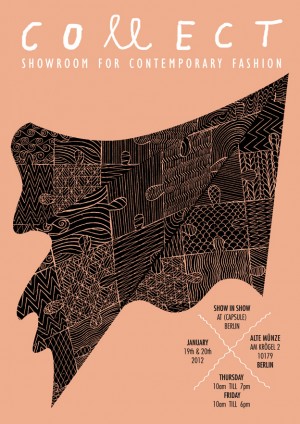 BERLIN, Dec 15, 2011/ FW/ — The next Berlin Fashion Week is almost here and so is the fourth edition of 'COLLECT – Showroom for contemporary fashion'.
For the first time with the Autumn/Winter season's kick-off in January, Arne Eberle press+sales' showroom will present itself in collaboration with the fashion- and lifestyle trade show (capsule) at the location 'Alte Münze'.
Laid-out as a "Show in Show" concept, COLLECT will keep its identity – a small and exclusive showroom which features selected labels in an individual and personal atmosphere and which will remain a special platform to showcase especially German fashion scene's creativity and individuality.
Also in this season, COLLECT features some of the best of what is going on in fashion in the German capital and beyond. With its small and exclusive selection of fourteen labels and a broad portfolio, ranging from well-established and internationally known designers to newcomers, COLLECT will give an exciting overview of Germany's fashion scene.
For the fourth edition of Collect, the following are presenting:
A.D. Deertz
Dieterle
Esther Perbandt
Franzius
Hien Le
Isabell de Hillerin
Juliaandben
Julian ZigerliLunettes Kollektion
Maiami
Mikenke
Prose
Raphael HauberReality StudioSISSI GOETZE
COLLECT will take place on 19th and 20th January 2012 from 10am to 7pm on Thursday and 10am to 6pm on Friday at Alte Münze, Am Krögel 2 in Berlin Mitte as "Show in Show" at (capsule) Berlin.
The visual concept for this season's edition of COLLECT Showroom has been developed by Romy Blümel. Romy's artwork for COLLECT with the prevalent theme of nude-coloured pieces of a puzzle is inspired by COLLECT showroom's main idea of bundling different designers with their individual styles and language of design to an inherently consistent overall concept under one umbrella.
Romy has already worked for a number of magazines such as SZ Magazin, NEON, and Indie Magazin and she has further gained experience in designingillustrations for advertising clients.
Every time, COLLECT's look is developed by a different up-and-coming design talent giving a young graphic designer or illustrator the possibility to showcase their work and interpretation of COLLECT Showroom and to create an individual yet consistent corporate identity.