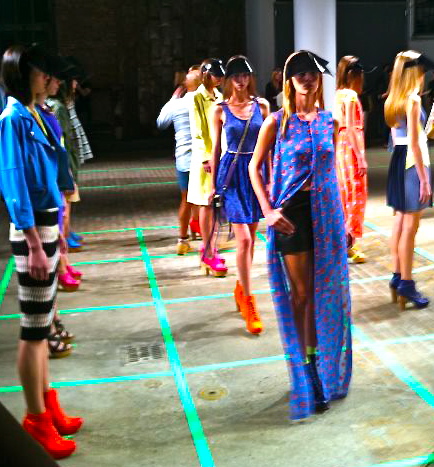 NEW YORK, December 16, 2011/ FW/ — Entitled '80s Surfer Girl', Fashion designer, Yigal Azrouël, introduced his new contemporary line, Cut25, for the first time during Mercedes-Benz Fashion Week at the Highline Stages in the Meatpacking District.
His inspiration behind his Spring 2012 collection drew from his early years growing up surfing during the 80s. His 80s surfer girl vibe collection contains looks bursting with playful, bold neon colors, mixing of layered pieces, and also, the looks showed off athletic attributes, including the matching visors the models sported during the collection presentation.
This more youthful collection by Yigal is wearable for anyone, and is meant for people to be able to have fun with by being able to play with the mix of colors and layering in their looks. So, surf into style this spring with Cut25's playful new collection, and be sure to look out for the opening of the Cut25 store on 129 Grand St., near the Mondrian Soho Hotel, in New York City during February 2012.
[DARBY RADCLIFF] Photo by Darby Radcliff