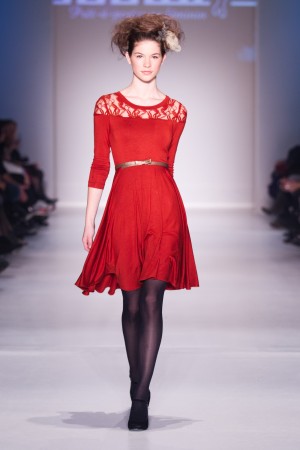 MONTREAL, FEBRUARY 7th, 2012- As easy as it sounds, we could describe Annie 50 label in one word: simplicity
Easy styles, simple designs, at affordable price, good-looking models with fresh faces, all walking on great beat, think Coppola Marie Antoinette soundtrack.
Even though, It was not new, nor so different from what the label is used to do, it felt fresh. In fact, it is nice to see a label which is not trying to hard to please the market. Season after season, Annie 50 stick to its (not-so) retro vibe and give exactly what its clientèle want to see: simple oufits, really comfortable, with a je-ne-sais-quoi of cute.
We particularly liked the A line silhouette, the lace detailing of some dresses and the cute tweed jackets and capes.
However, the designers should be more careful with colors choices; sometimes the mix did not look in harmony with their styling.
The show was enjoyable, fresh and simple.
[ MARIE-CHARLES]
Pictures credit: Jimmy Hamelin