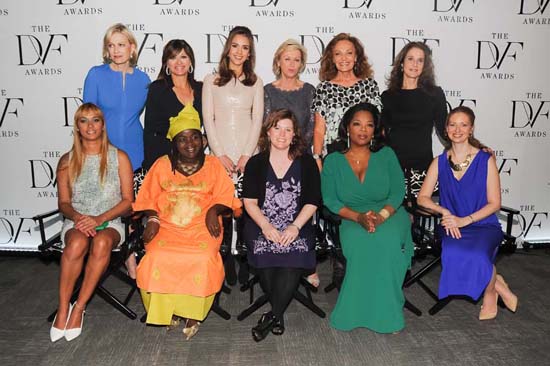 NEW YORK, Mar 10, 2012/ — Given to five women who have demonstrated leadership, strength, and courage in their respective fields, the DVF Awards were created in 2010 by Diane von Furstenberg and The Diller-von Furstenberg Family Foundation to recognize and support women who are using their resources, commitment and visibility to transform the lives of other women.
Now on its third year, Annual DVF Awards honored Oprah Winfrey with the Lifetime Leadership Award, Jaycee Dugard, founder of The JAYC Foundation, Layli Miller-Muro of the Tahirih Justice Center, Panmela Castro of Rede Nami, and Chouchou Namegabe of the South Kivu's Association of Women Journalists.
Held Friday night at the United Nations, the gala night was hosted by Diane von Furstenberg and Tina Brown. Presenters included actress and philanthropist Jessica Alba, bestselling author and Emmy award-winning journalist Maria Bartiromo, Academy Award-Nominated actress Debra Winger. There was also a live performance by singer-songwriter Ingrid Michaelson.
Notable attendees included Barry Diller, DVF Creative Director Yvan Mispelaere, Rep. Nancy Pelosi with Paul & Alexandra Pelosi, Diane Sawyer, Ambassador Melanne Verveer, Tzipi Livni, Lauren Bush & David Lauren, Fran Lebowitz, Cash Warren, Frederic Malle, Tatiana von Furstenberg, Anh Duong, Akri Busson, Anne McNally and Rachel Sterne among others.
The event took place during Newsweek & The Daily Beast Women in the World Conference held at Lincoln Center, where influential women in the world of politics, media, film, philanthropy and design gathered to share ideas, stories and solutions for the many challenges affecting women worldwide today.
[nggallery id=359]