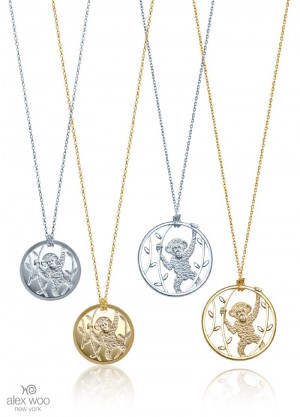 NEW YORK, Apr 10, 2012/ — Usually, it goes from the showroom to the movies, or from reality to reel; but for DisneyNature film's "Chimpanzee" it went the opposite way. Inspired by the movie, jewelry designer Alex Woo created new pendants that paid homage to "Chimpanzee".
The story of Oscar, an adorable young chimpanzee with a playful curiosity and zest for discovery, "Chimpanzee" takes moviegoers deep into the forests of Africa. Not your average animal kingdom movie, "Chimpanzee" is a remarkable story of family bonds and individual triumph.
"As the mother of a toddler, I instantly bonded with Oscar, the adorable 3-year-old from the film. I really wanted to capture his youthful and precocious spirit, as well as his beautiful surroundings," says Woo.
With Oscar destined to steal the hearts of moviegoers nationwide when the film swings into theaters April 20, 2012, Woo designed two exclusive pendants featuring an image inspired by the lovable chimpanzee.
Featured alongside the young chimpanzee in Woo's designs are three vines that were inspired by the Jane Goodall Institute's (www.janegoodall.org) mission to protect people, animals and the environment. Twenty percent of proceeds from sales of the pendants will benefit JGI's conservation efforts to protect chimpanzees today and tomorrow.
Available in eco-friendly recycled sterling silver and 14K gold, the one-inch, open cut-out pendant (starting at $218) and 4/5-inch solid disc pendant (starting at $158) both hang from 18-inch chains. They are available at alexwoo.com and at fine specialty stores.