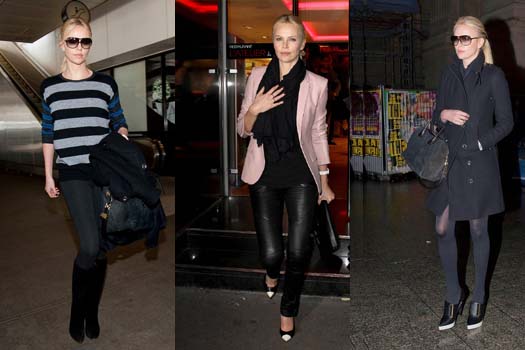 DALLAS, Apr 17, 2012/ — Oh my!!! Charlize Theron is a true Stella McCartney fan. The Academy Award winning actress was spotted in at least three places wearing Stella McCartney.
On Tuesday, April 12th, a the LAX International Airport, Charlize Theron sported a stripe knit shirt from the Stella McCartney Autumn 2012 collection.
Earlier during the week, she arrived in Paris via the Eurostar on April 10th and was seen wearing Stella McCartney Winter 2012 Black Faux Leather Buckle Pumps.
And while she was out and about on Wednesday, April 11th, 2012 in Paris, Charlize Theron wore a light pink blazer from the Stella McCartney Winter 2012 collection.
Meanwhile, back here at home, Diane Kruger attended the 2012 Coachella Music Festival on Sunday, April 15th 2012 in Indio, California in Stella McCartney Spring 2012 White and Blue Stripe and Hawaiian Print Dress.
In New York, Naomi Watts opted for a Stella McCartney Autumn 2012 Black Velvet Strapless Stretch Dress, faux python grace bag, and Spring 2012 black sandals when she made her appearance at the 2012 Tribeca Ball at the New York Academy of Art on April 16, 2012.
Rosie Huntington-Whiteley was seen in Stella McCartney Summer 2012 look 13 out and about on the streets of Manhattan on April 16, 2012 in New York City.