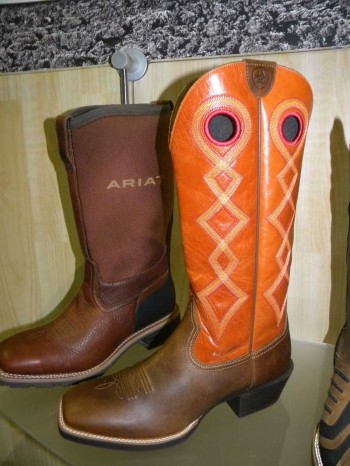 DALLAS, Mar 18, 2014/ — Cowboy boots decorated with fringe or with original hand stitched embroidery, Ariat has wound itself deep in the heart of Texas.
Offering traditional cowboy boots and its high tech variety, Texans and cowboys find Ariat boots a must-have for their wardrobe as the western wear company put forward innovations while staying true to the original function and style of the cowboy boots.
Visiting the Ariat International booth at the Professional Bull Riders (PBR) Iron Competition held at the AT&T Stadium last March 1st, it was very easy to recognize the fashion boots and the high-tech boots on display.
"These are our Fall 2014 collection," said Alison Borris, spokesperson for Ariat International. Showing off the Ariat Catalyst VX which will be available this fall for $299.95, Ms. Borris lauded the boots qualities.
"The Catalyst VX has been crafted with the avid rider in mind. It features Grip Strips™ on the boot's exterior to minimize wear from stirrups, an in-molded Spur Grip™ to eliminate spur movement and an under-slung heel that helps keep the stirrup in position," Alison explained.
Then she added that for the Catalyst VX, Protective ExGuards™ in key wear zones provide further protection during tough use. Additional features include: Ariat's patented U-Turn construction for ease of entry, a leather lining with X-Static® sock liner and a padded shaft collar for protection and comfort.
Seeing the Ariat Catalyst VX will make one rethink how they view cowboy boots. Though these innovations might be new to the general public, Ariat is well known to professional bull riders and rodeo participants.
A major supporter of the PBR, Ariat also sponsors athletes with over 40 cowboys on their roster who all wear Ariat boots whether in practice or competition. And it's not just the competitors who wear Ariat boots. Looking at the cowboys who came to watch the PBR, many of them were wearing Ariat!