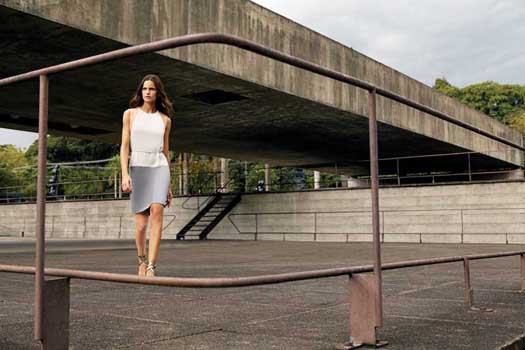 NEW YORK, May 17, 2012/ — It's "A Magical Journey" for fashionistas as native son Francisco Costa brings the delights of Brazil in 85 select Macy's stores nationwide with the limited edition dress line "Francisco Costa for Calvin Klein" capsule collection.
And, in celebration of this momentous event, a special ad campaign was created specifically for the capsule collection and Macy's "Brasil: A Magical Journey" promotion.
Shot by photographer Cliff Watts on location in São Paulo, Brazil, the "Francisco Costa for Calvin Klein" advertising campaign features Brazilian model Izabel Goulart whose femininity and effortless beauty complement the line's sense of ease.
Taking cues from the contemporary Brazilian architecture that influenced the dresses, the images were photographed on the grounds of the Museu Brasileiro da Escultura – known as the MuBE, or the Brazilian Museum of Sculpture. The clean lines of the spaces mirror the capsule's pure, modern silhouettes.
The styles shown in the campaign are designed in sophisticated crepes and jersey in a palette ranging from classic white and shades of grey to warm hues, like guava and orange clay.
As previously announced by Macy's, "Brasil: A Magical Journey" is Macy's bold and colorful spring celebration spotlighting Brazilian design and culture throughout its stores across the country now through mid-July.
The "Francisco Costa for Calvin Klein" dresses are currently available in 85 select Macy's stores nationwide, as well as on-line in the U.S., exclusively at macys.com. The manufacturer's suggested retail prices range from $135 to $180.
In addition to Mr. Costa's first-ever dress capsule, the existing Calvin Klein line, designed by the brand's Global Creative Director, Kevin Carrigan¸ also features a special offering for Macy's "Brasil: A Magical Journey" campaign. Captured in vibrant advertising imagery shot by Mr. Watts, the colorful assortment includes Brazil-infused men's and women's apparel and accessories – including handbags, shoes and sunglasses – as well as a vivid selection of Calvin Klein Underwear.
"Francisco Costa for Calvin Klein" – available exclusively at select Macy's and macys.com
IMAGE CREDITS: © 2012 Cliff Watts