LONDON, May 22, 2012/ — It's back to nature with floral prints from Thomas Voorn with the designer's own garden as his muse with this Spring / Summer 2012 photo wallpapers.
Stripes of Common Foxglove flowers, large patterns of Rhubarb, scattered patterns of Bird Cherry leafs are a few examples of the latest collection of Herbarium at Home floral print wallpapers by Thomas Voorn.
To contrast the previous subtle poetic collection, the prints are bold and graphic this time. To launch the new styles Voorn creates again a trademark clash of florals with wallpapers and textiles from the collection.
Voorn develops the floral prints of flowers and plants from his own city garden in Holland. Home grown, nurtured, handpicked and photographed by Voorn himself. The designs are sharp and photographic, as well as subtly irregular in pattern to give them a handmade feel.
In the past four years he designed spring|summer and autumn|winter florals from his garden: Voorn's 'Herbarium'. The familiar floral print is subtly twisted into a contemporary version. 'Herbarium at Home' is the organically growing collection of floral print products with which he captures what blossoms and fades throughout the seasons, and brings the garden inside.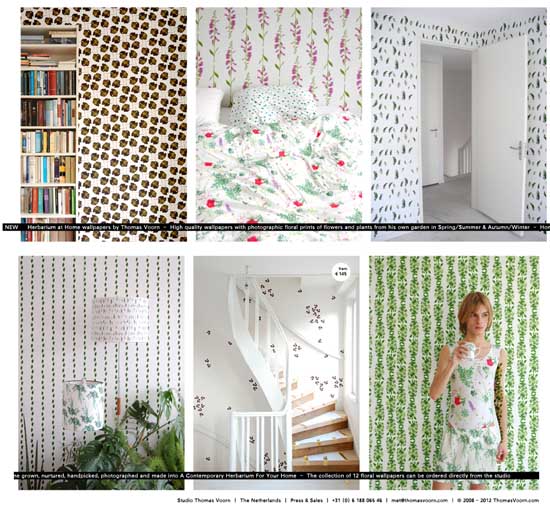 New Herbarium at Home wallpapers, productinformation and commissioned wallpapers: now online. At ThomasVoorn.com you can see what floral prints have been created from the garden's greenery and made into high quality photo-wallpapers this year.
Samples and roles of wallpaper can be ordered directly from Studio Thomas Voorn:
prices per role of 10 metres (33 ft) from € 122,- | £ 95,- | $ 145,-
Herbarium at Home wallpapers 2012
http://thomasvoorn.com/thomas_voorn.htm