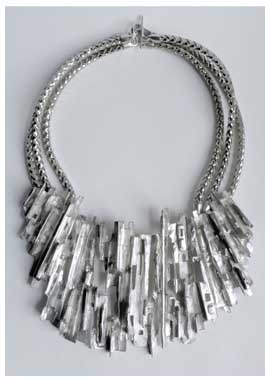 PARIS, Jun 12, 2012/ — 1-100 designers Graham Tabor and Miguel Villalobos will be presented at Design Miami / Basel 2012 by renowned New York design gallery, Cristina Grajales Gallery.
Since 2009, Tabor & Villalobos have created handcrafted limited edition jewelry in their New York studio under the name 1-100. 1-100 has sold internationally at exclusive retailers such as Joyce HK, 10 Corso Como – Seoul, Patron of the New – NY and Colette to name a few.
At the same time, Tabor and Villalobos have been creating large sculptural jewelry as single commission pieces and editions of five. Each object created by Tabor & Villalobos is hand sculpted and cast using the lost wax technique in sterling silver and 18k gold.
In 2010, Tabor and Villalobos were invited by journalist Diane Perne to present a selection of their single commission pieces at the SCOPE Art Fair in New York.
Their first solo sculpture show "Hic et Nunc" was exhibited alongside their photographic work at Portal+ Gallery in Australia in 2011 and HAPPA Space Tokyo in 2012
Miguel and Graham's first monograph Hic et Nunc will be available globally in 2012 published by Portal+ Australia.