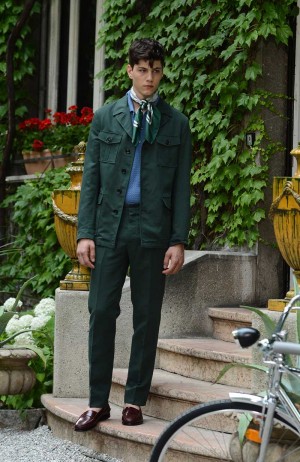 MILAN, Jun 26, 2012/ — A car TV commercial in the U.S. shows a twenty-something telling the audience that she had been encouraging her parents to be more active socially; then complains that between them, they only have 19 Facebook friends while she has over 600.
On the background, the parents were out with friends, doing things like hiking and kayaking, even going out to eat. And they are doing it in the real world, not in the virtual world.
For Spring 2013, Nicola Trussardi wants young men to enjoy the real world, with the subliminal message that the photos of fantastic places they see online are real places and they could enjoy really be there physically and not just in their imagination.
With that message, for the Trussardi Spring/Summer 2013 collection, Umit Benan Sahin describes the summer vacations of young urban men who are as modern as can be yet can easily leave their smartphones and tablets behind to enjoy the beach.
Surprisingly, Trussardi did not send any swimsuits on the catwalk. Rather, perfectly coordinated and exquisitely detailed outfits defined the collection.
The collection expresses history and tradition – the colors, materials and silhouettes are inspired by the brand's heritage – but with a contemporary twist. Classic combinations have an edgy, fresh, contemporary feel, with details that consistently reflect the look of the Trussardi man on vacation and at leisure.