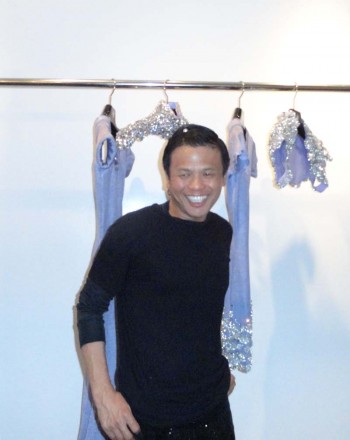 NEW YORK, Sep 6, 2013 / — With fashion week kicking off today, and with Zang Toi's show slated on Sunday, chaos was to be expected at the designer's New York atelier. But, it was actually controlled chaos as Zang Toi directed staff in Zen-like actions.
"The inspiration for this season is the South of France," Zang Toi said, continuing that the title of the collection is "Romance of Cote d'Azur."
Yet, his Spring 2013 collection is not the only Zang Toi line which will be unveiled on Sunday. With the Zang Toi make-up line by Amazing Cosmetics already available at Sephora stores nationwide and also online, a new nail polish line is launching on Sunday.
"The Zang Toi nail polish comes in three new colors that were formulated specifically for the House of Toi," the New York-based designer related. Working closely with Amazing Cosmetics, Zang created "ice lilac" as homage to his bestie Julie Macklowe, "ice pink" for his dear friend Gigi and a silver platinum shade named "ice princess" to represent the House of Toi.
Ahead of the curve on the emerging trend of legwear, Zang is also unveiling his new line of hosiery, "Zang Toi by Zoya". For the color and the design, we have to wait till Sunday to see.
[MARI DAVIS]
Photos by Mari Davis