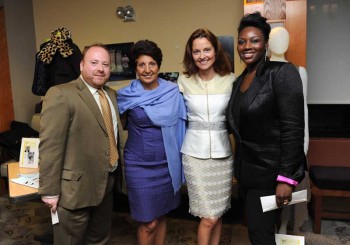 NEW YORK, Oct 4, 2012/ — The first class of Design Entrepreneurs NYC (DENYC), the free, intensive, "mini-MBA" program that teaches emerging New York City-based fashion designers how to run a business, culminated with presentations of business plans by 15 of the 35 designers who participated in the program.
The event took place at the Fashion Institute of Technology (FIT) on September 20. DENYC was launched by the New York City Economic Development Corporation (EDC) and FIT.
Three panels of business and banking executives heard and commented on five plans each. Three designers were then selected by the executives to receive additional mentoring to further refine their plans and continue to learn how to successfully run a design business.
The selected designers were women's ready-to-wear designer Mimi Plange, Hippototamus children's wear designer James Talbot, and Jes Wade, whose women's collection is handcrafted in house exclusively for private clients.
Each will receive two sessions in consumer brand support from Ari Bloom and five pro bono hours of legal support from Charles Klein.
Bloom works closely with creative entrepreneurs to develop innovative consumer concepts and to establish sustainable businesses around them. He is an advisor to the CFDA Fashion Incubator and has advised such brands as Chris Benz, Richard Chai, and Steven Alan.
Klein is a partner at Davidoff Hutcher & Citron LLP, specializing in corporate licensing and litigation matters for the fashion industry. He is an active member of the fashion law community, having founded the Fashion Roundtable and the Fashion Service Network.
The 35 designers who participated in DENYC span a wide range of fashion categories including accessories, jewelry, children's wear, men's apparel, and women's apparel. They studied throughout the world, including Canada, Italy, Ireland, and Turkey, though the majority come from New York City schools, including Columbia, FIT, NYU, and Parsons.
To participate, designers were required to have New York City-based companies that have been in business for at least one year; the majority of the selected participants have been in business for fewer than four years.
For more information about Design Entrepreneurs NYC, visit designentrepreneursnyc.com.
Photo by Jerry Speier