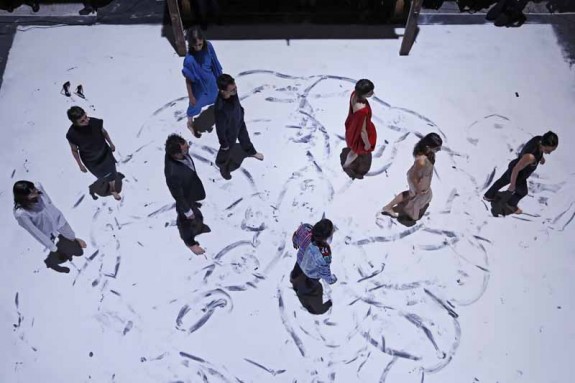 NEW YORK, Oct 24, 2012/ — Paying homage to the inimitable style of Maison Martin Margiela, H&M dreamt up a unique event of art and dance performance to herald the arrival of the Maison Martin Margiela for H&M collection
With Julianne Moore, Sarah Jessica Parker, Mena Suvari, Kanye West, Helena Christensen, Selma Blair, Alan Cumming and Chace Crawford heading up the guest list, fashionistas flocked to 5 Beekman Street, a historical building in the city's financial district to attend this one-of-a-kind event held on multiple floors and featured dance performances and specially commissioned art installations.
The abandoned nine-story building, with its spectacular glass-roofed atrium and decorated in the label's signature white-painted style, was the perfect setting for the celebration of Maison Martin Margiela with H&M.
The famed choreographer Anne Teresa de Keersmaeker created unique and beautiful performances in squares of sand which took place throughout the evening on different floors. Anne Teresa and her dancers wore garments from the collection that they removed while performing, thus creating live and spontaneous art installations.
Afterward, DJ's kept the party going into the early hours of the next morning. The Maison Martin
Margiela with H&M collection will be launched on November 15th in approximately 230 H&M stores worldwide.
The collection with H&M, a series of re-editions of Maison Martin Margiela garments and accessories from various seasons, was further revealed in special art installations on various floors: artists Daniel Arsham, Frederique Chauveaux and Noemie Goudal created sculptures, projections and photographs exclusively for the event.