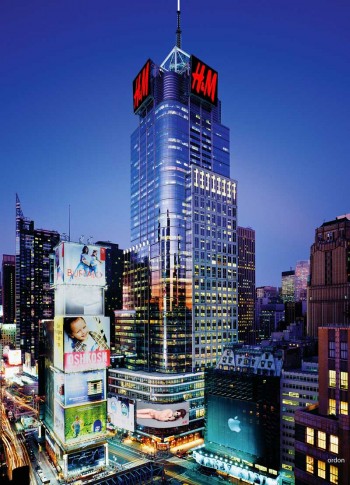 NEW YORK, Oct 8, 2012/ — It's lucky 13 for H&M in Manhattan as the trendy retailer announces that its newest and thirteenth location in New York City will be at 4 Times Square.
Measuring 42,500 square feet, this full-concept store will feature three floors of fashion for the entire family and will be a shopping destination with a unique and interactive design. And the best part, with this new location, the H&M brand will now be a part of the iconic New York City skyline with LED H&M signage at the very top of the building measuring 70 feet by 70.
"Opening this new concept store in Times Square, the crossroads of the world, shows our commitment to opening in the best locations as well as our continued potential to open stores in Manhattan and the greater New York City area. This new H&M location will join our new flagship store on Fifth Avenue as world-wide shopping destinations," says Daniel Kulle, U.S. President for H&M.
H&M is delighted to continue its expansion in its first U.S. city, and recently announced that it will open a store in The Shops at Columbus Circle located at the prestigious Time Warner Center, at the end of this year, as well as its new flagship store at 589 Fifth Avenue, which will be the largest H&M store in the world measuring 57,000 square feet.
H&M offers U.S. consumers access to quality fashions at the best prices through 255 locations across the country. H&M has more than 2,600 stores in 47 markets worldwide.