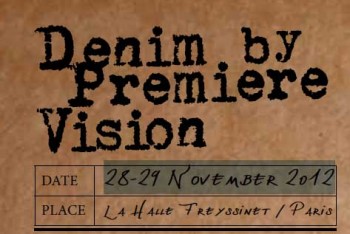 PARIS, Nov 14, 2012/ — With 87 exhibitors coming from 19 countries, the 11th edition of Denim by Première Vision provides an opportunity for all jeanswear pros to come together under one roof for two days (28-29 November 2012) at the Halle Freyssinet in Paris.
Expected to present the latest developments for for Spring-Summer 2014 are weavers, garment manufactures, launderers, finishers and trim suppliers from 19 of the leading countries for jeans, including Turkey (29%), Italy (19.5%), Tunisia (10%) and Morocco (8%).
Must-see companies in the exhibitor list include:
Denim-makers: Artistic Fabrics Mills (PK), Arvind (IN), Bossa (TR), Berto (IT), Calik (TR), Cone Denim (USA), Denim Valley
(ES), Isko (TR), I.T.V. (IT), Kuroki (JP), Orta (TR), Swift (FR), Tavex (ES), TRC Candiani (IT)…
Manufacturers / launderers / finishers: Crossing (MA), Denim Authority (TN), Demco (TN), Fashion Point (TR), Realkom
(TR), Sartex (TN), Gonser (TR)…
Trims: Berning (FR), Cadica (IT), Panama Trimmings (IT), Prym Fashion (ALL), YKK (IT)…
Much more than a show, Denim by Première Vision is a place to meet and find inspiration that brings the community together around a number of events. On the bill this edition:
I.T.V. Denim | Industria Tessile del Vomano s.r.l. launches Wine-Tex® at Denim by Première Vision:
This world exclusive patent refers to a method of creating a wide range of blue colours for dyeing yarn, pieces and ready-made garments based on the use of wine. With this innovative dyeing method, startingfrom the initial colour, during the finishing treatment on ready-made garments, by working on a few controllable parameters, products can attain a wide variety of colour gradations, each quite different from one another. The dye process uses products from the wine production chain, and will change the worldwide approach to dyeing!
Up to Denim 3 – Explore inside, express yourself!
This new insight into the sector comes from iSKO™, the leading quality-ingredient brand for the global denim industry, partnering with INVISTA, owner of the LYCRA® and LYCRA T400® brands and fibre businesses, together with the prestigious brand GEOX, the Italian brand synonymous the world over for its patented research and technology, which has chosen iSKO™ fabrics for its first denim collection, BLUGEOX.
Denim by Première Vision
WHEN: 28-29 November 2012
WHERE: La Halle Freyssinet / Paris