PARIS, Nov 8, 2012/ — Since 2003, the Frimousses de Créateurs has been the hub of cooperation between fashion houses, jewelers, artists and designers as they exert their talent for the benefit of the children from Darfur.
And the sweet Frimousses celebrate their anniversary with the theme « Yes Futur » as the UNICEF and its partners have faith in better prospects.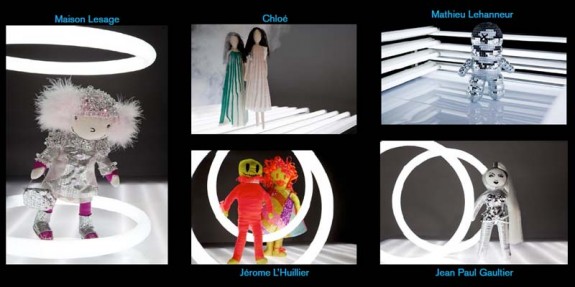 This year crop of designers feature some of fashion's most recognizable names – Chanel, Christian Dior, Louis Vuitton, Chantal Thomass, Chloé and Jean Paul Gaultier while also highlighting new creators such as Roure, the French jeweler RourRoure or the famous French-Venezuelan painter Carlos Cruz-Diez
This year, from November 27 to December 2, the "artwork" dolls will be shown in the Petit Palais. The dolls will invite visitors to fully immerse themselves into a dream and futuristic universe, in an avant-garde atmosphere with a magical staging (by Valeria Attinelli) and original sound by sound-designers Arnaud Clemente-Jacques et Olivier Perrot).
On December 3, fashion fans, art collectors and generous donors will meet together at the auction organized by Artcurial Briest-Poulain-F.Tajan. The auction will take place at the Petit Palais, which is also the site where the Frimousses will be exhibited to the public.
Since 2003, the Frimousses de Créateurs enabled the UNICEF to raise €1,527, 480 which had been used to pay for large-scale child vaccination drives. Within the decade, more than 250 creators designed 771 dolls.
The Frimousses 10th anniversary gives the opportunity to break a new record to offer to the children from Darfur a promising future.
FASHION DESIGNERS
Agatha Ruiz de la Prada, Agnès b., Giorgio Armani, Chanel, Chacok, Chantal Thomass, Chloé, Christian
Dior, Dice Kayek, Didit Hediprasetyo, Dolce & Gabbana, Elie Saab, Emilio Pucci, Escada, Anne Fontaine, Frimousse du Coeur, Frimousse du Monde, Georges Hobeika, Gucci, Groupe Frères Blanc, Issey Miyake, Jay Ahr, Jean Paul Gaultier, Jérôme L'Huillier, Jean-Claude Jitrois, Kaloo, Léonard Paris, Loewe par Stuart Vevers, Louis Vuitton, Maison Fabre par Thomasine Barnekow, Maison Lesage par Hubert Barrère, Max Chaoul, Missoni, Kokeshi Parfums, Pierre Hermé, Prada, Princesse Tam Tam, Le Rallye de Princesses, Sonia Rykiel, Tilmann Grawe pour TEAS, Torrente, Xu Ming, Yulia Yanina.
JEWELERS
Edéenne, Lorenz Bäumer, Roure le joaillier français
CONTEMPORARY ARTISTS
Ara Starck, Auréle Lost Dog, Catherine Bolle, Claudine Drai – Galerie de Noirmont, Carlos Cruz-Diez, Eric Bottero, Erro Galerie Carré, Jean-Charles de Castelbajac, Kokian – Galerie Caplain-Matignon, Laure Tixier, Ma Tse Lin, Marjane Satrapi – Galerie de Noirmont, Milton Becerra, Nathalie Decoster, Nicolas Saint Grégoire, Philippe Pasqua, Sign7, Speedy Graphito, Xing Qian Ye.
DESIGNERS
François Clerc, François Azambourg Galerie Kreo, David Dubois Galerie Kreo, Mathieu Lehanneur,Olivia Putman, Olivier Dollé, Philippe Daney, Ronan et Erwan Bouroullec, Valéria Attine