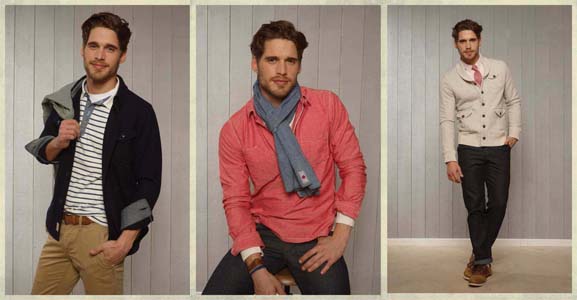 NICE, France, Sep 18, 2012/ — For the new fall season, Tailored Denim channels the incomparable energy of two iconic Frenchmen: Jean-Paul Belmondo, the famous Gaelic actor of the Nouvelle Vague cinema movement, and Nicolas de Staël, a celebrated painter who worked from his beachside studio in Antibes.
Two arguements for the right wardrobe staple, Faconnable Tailored Denim celebrates visual arts with its "Artisanship and Imaginative Soul" theme.
Starting with the first theme, "Nouvelle Vague," the design office filtered the experimental energy of Belmondo through the color scheme of Yves Klein. Yves Klein blue permeates the collection, giving a dynamic twist to a lineup that is anything but basic. Coats, vests and longsleeve polos are cut from French Terry and jersey slub for pieces that from day one feel like they've been yours for years.
The second grouping, "Atelier Promenade", features the warm colors of a de Staël painting. Sunbleached oranges and yellows give button-front terrycloth hoodies and roll-neck pullovers a cool vibe.
Tailored selvedge denim and diagonal striped twopocket terrycloth polos are seasonless essentials to get you through the fall and into the spring.
[gallery link="file"