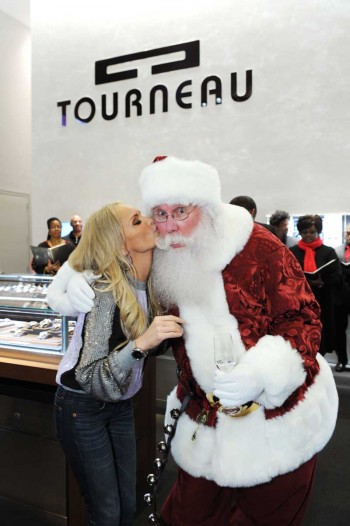 NEW YORK, Nov 28, 2012/ — Suspended from the ceiling of TOURNEAU's 3,000 square foot luxury retail space, the world's largest mistletoe ball measures an approximate 6 feet in diameter.
And for the FIRST KISS under it, Tony and Emmy Award Winning Actress, Kristin Chenoweth shared it with a special secret guest – Santa Claus.
A yearly holiday tradition at TOURNEAU, America's leading watch retailer, the celebration was once again held at the 510 Madison Concept Store in New York City. After that "first kiss", the renowned New Boys and Girls Choir of Harlem added to the festivities by giving their premiere performance of the season beneath New York City's newest holiday landmark.
And leveraging the power of social media, the retailer also unveiled a new digital campaign to capture these "kiss cam" moments, which will then be woven into a digital quilt to be displayed in-store and on TOURNEAU's Facebook page.
Users will then have the chance to win a 'his and hers' TOURNEAU watch from their TNY Series if their picture is chosen as the winner.
"New York City is such a special place, especially during the holiday season," said TOURNEAU SVP of Retail, Larry Barkley. "As a company, we wanted to create a destination for NYC locals and visitors alike to create a holiday memory to cherish over the years."
The use of mistletoe to celebrate holiday love dates back centuries. It is referenced in ancient Norse mythology in stories of a goddess named Frigg, who declared the mistletoe plant to bring love into the world.
Worshipers then kissed under the mistletoe to show their obedience to the goddess. Mistletoe is also referenced in ancient traditions originating from the Babylonian-Assyrian Empire. Centuries later the mystical plant shows up again in English literature, where young men would kiss women standing under the mistletoe, often as a promise of marriage.
It is first mentioned as a holiday tradition in 1820 by American author Washington Irving in his "The Sketch Book of Geoffrey Crayon."