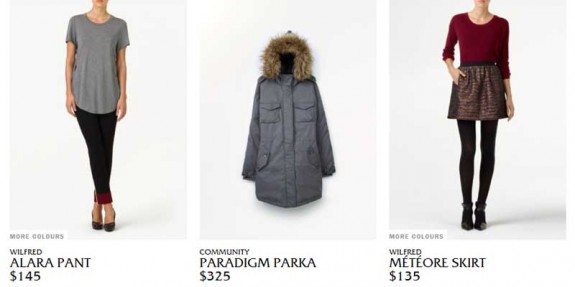 DALLAS, Dec 4, 2012/ — Trendy fashion boutique Aritzia, with 54 locations in North America, one of them being at The Shops at Willow Bend in Plano, launched its online channel (www.aritzia.com) late last week.
Founded by Brian Hill in Vancouver, BC in 1984, Aritzia curates a unique collection of beautifully designed clothes and accessories every season, since its inception. A multi-label specialty retailer, 90% of the brands sold are Aritzia exclusive (i.e. Wilfred, Wilfred Free, Le Fou, T.Babaton), with the remaining 10% made up of third party brands.
And just in time for Black Friday, Aritzia opened a 5th Avenue flagship store in New York. At 13,000 square feet, it is the largest Artizia store to date.
Catering to the style-forward woman, Aritzia offers on-on trend styles and looks in contemporary price points, and thus making it a highly recommended fashion destination.
Whether you plan to shop online (www.aritzia.com) or at its brick and mortar location, be rest assured you are getting high quality merchandise at its best value.
The Shops at Willow Bend
6121 W Park Blvd.
Plano, TX 75093
972.202.2457