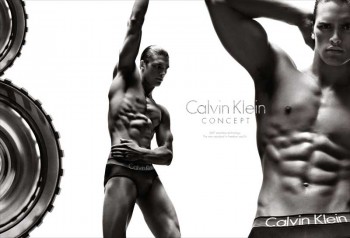 NEW YORK, Feb 3, 2013/ — Football fans know that the Super Bowl is not just about the game. It's about who is singing the National Anthem (Alicia Keys), who performs at the Halftime Show (Beyoncé and Destiny's Child) and which commercial is the viewer's favorite?
Airing in the first quarter of tonight's game, Calvin Klein Underwear "Sexy" Commercial not only marks the commencement of the brand's Spring 2013 campaign but also a historic first for the maison as it is the first time that Calvin Klein graced the Super Bowl.
The provocative commercial depicts male model Matthew Terry as the iconic archetype in a modern "man versus machine" creative inspired by the 360º seamless technology construction of the new men's Calvin Klein Concept line.
"I couldn't believe it when I found out last week that the Calvin Klein Underwear campaign was going to break on television during the Super Bowl," Mr. Terry said.
"I am a huge football fan, and played in high school, so it's exciting to think that I will be in a commercial during the biggest, most-watched game in the country. Working with the Calvin Klein team and representing such a legendary brand has been a wonderful, surreal experience."
To engage with customers and further support the product launch, a robust social media campaign was developed around the new creative. Currently all of Calvin Klein's official social media platforms – including Facebook, Twitter, Tumblr and YouTube – have been transformed with the new visuals.
Tonight, complementing digital content featuring Mr. Terry is also being shared throughout the championship game via Vine, Twitter's new video-sharing app.
In addition, the Calvin Klein Concept commercial is now featured in Twitter's #AdScrimmage and YouTube's Ad Blitz contests for this year's best Super Bowl commercials as voted by the fans.
Fashionistas, let us give everyone a show of force and vote for CALVIN KLEIN CONCEPT at YouTube AdBlitz: http://www.youtube.com/adblitz