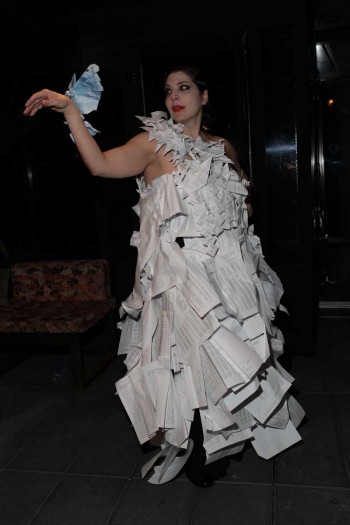 NEW YORK, Feb 13, 2013/ FW/ — Struck with divine inspiration during the height of fashion week, actress-designer-artist Tara Subkoff assembled the festivities of Sunday night's 'impromptu opera' in less than 48 hours, rallying performers, friends, sponsors and fans to join in supporting her latest artistic creation: "Living Drama".
A multi-operatic performance installation presented by imitation of christ by Tara Subkoff, the performance premiered on Feb 10th at the Thompson LES, and celebrated SAVE.LOVE.GIVE.
Conceptualized and directed by Tara, these segmented vignettes popped up unexpectedly throughout the length of Above Allen, featuring opera sopranos dressed in recycled newspaper origami sashes and accents made by artist Sok Song.
One dress was made entirely of recycled mobile phone bills – an allegory for the $52.8 billion of wireless waste in the US, which can be repurposed for philanthropic causes through SAVE.LOVE.GIVE.
Performers were The MET's Eve Gigliotti and Rebecca Ringle, the New York City Opera's Emily Langford Johnson, Michele Torvato of the Seattle Opera, and Maeve Hoglund of the Gotham Chamber Opera.
Guests enjoyed complimentary Svedka Vodka. Those in attendance included: Validas CMO Kerry Chrapliwy, Tara Subkoff, Lizzi Bougatsos, Kim Gordon, Natasha Lyonne, Tarajia Morrell, Jack Pierson Crystal Renn, Claire Bernard de Rham, Timothy Ware Schifter, Chloe Sevigny, Lissy Trullie, Arden Wohl, and others.
Photos courtesy of Imitation of Christ