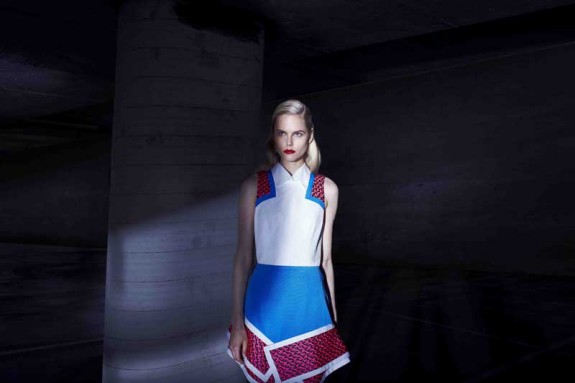 NEW YORK, Feb 26, 2013/ — Taking the Japanese concept of wabi-sabi as the driving principle for its Spring 2013 campaign, Camilla and Marc invoke a new level o simplicity, exploring decorative techniques while keeping excess at bay.
Mixing metallic chains with flowers in grey tones and then interspersed with bright painted stripes of cobalt blue, acid yellow and magenta, the Camilla and Marc in Spring 2013 collection explores the concept of imbalance with its imperfect symmetry.
The collection pops with heavy embroidery in black and florescent pink as well as 3 dimensional ribbing in vibrant hues of pink, orange and purple. This labour intensive detailing is used with a lightness of touch to add depth to the otherwise clean shapes.
Contrasted with simple yet structural silhouette with the intensity of an all over print, the story further evolves with utilitarian garments in a colour palette of khaki, navy and white.
Cotton drop crotch trousers, lapel-less suits, collared shirts and dresses all with clean, formal silhouettes and adorned with gold buttons or heavy tone-on-tone beading in a style reminiscent of a military uniform.
Juxtaposing these muted tones a camo-print is introduced, used on classic shapes such as a skater skirt and bomber jacket.
Striking a new note for CAMILLA AND MARC, The Fundamentals is a subtle collection, merging an easy luxury with a restrained approach, sure to resonate with the brands fans.