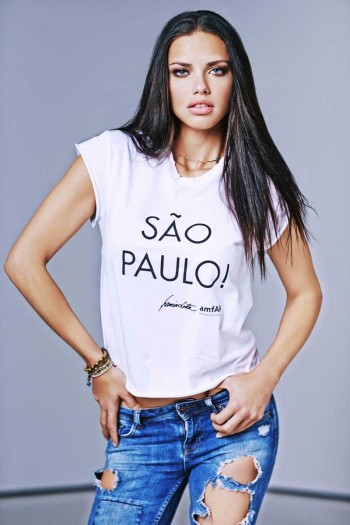 NEW YORK, Apr 2, 2013/ — Calvin Klein Collection Women's Creative Director Francisco Costa is using his design prowess to help his home country fight HIV/AIDS.
Designing an exclusive t-shirt for amfAR Sao Paulo campaign, Brazilian-born Costa is one of several prominent Brazilians united to support amfAR, The Foundation for AIDS Research, as well as promote the third annual amfAR Inspiration Gala in São Paulo, Brazil, which will be held on Friday, April 5th.
The event will take place at the home of entrepreneur Dinho Diniz and will honor iconic Brazilian athlete Pelé and pop star Fergie, who are receiving the amfAR Award of Inspiration.
Supermodel Kate Moss and amfAR's Global Fundraising Chairman Sharon Stone are expected to attend the event, which will include a burlesque act by Dita Von Teese and performances by Brazilian Minister of Culture Gilberto Gil and Brazilian samba artist Seu Jorge.
In addition to Mr. Gil and Mr. Costa, notables photographed wearing the t shirt for the campaign included, Adriana Lima, Izabel Goulart, Ana Beatriz Barros, Léa T, Preta Gil, André Bankoff, Romulo Arantes Neto, Jesus Luz, Laura Neiva, Giovanna Antonelli, Xuxa, Carolina Dieckman, Emanuela de Paula, Fernanda Mota, Ildi Silva, Isabelle Drummond, Maria Helena Chira, Sabrina Sato, Mayana Neiva, Sophie Charlotte, Letícia Birkheuer, Renata Kuerten, Lucas Malvacini and Lala Rudge, among others. The campaign was shot by multiple photographers, including Fernando Torquatto, Henrique Gendre and Russell James, in both Brazil and New York, and produced by amfAR committee member, Sergio Esteves.
The graphic black and white t shirt designed by Mr. Costa captures the modern and minimalistic aesthetic for which he is known. Inspired by black sand, the t shirt boldly features the words – "SÃO PAULO!" – created with a unique textural effect and a subtle sheen.
Mr. Costa was previously recognized by amfAR for his commitment to raising HIV/AIDS awareness and advancing AIDS research with the Award of Inspiration at the organization's first Inspiration Gala in São Paulo in April 2011. The award was presented to Mr. Costa by actress Claire Danes.
The amfAR Inspiraton Gala in São Paulo is part of a series of events which the Foundation launched along with Josh Wood Productions in 2010 to celebrate all aspects of style. Funds raised from the Inspiration series go to AIDS research. Following the São Paulo event, the Inspiration Gala New York will take place on Thursday, June 13th.
For more information, visit http://www.amfar.org.
Photo Credits: ADRIANA LIMA: © 2013 Russell James; ANNA BEATRIZ BARROS: © 2013 Fernando Torquatto; FRANCISCO COSTA: © 2013 Henrique Gendre; GILBERTO GIL: © 2013 Henrique Gendre; IZABEL GOULART: © 2013 Fernando Torquatto; LÉA T: © 2013 Fernando Torquatto