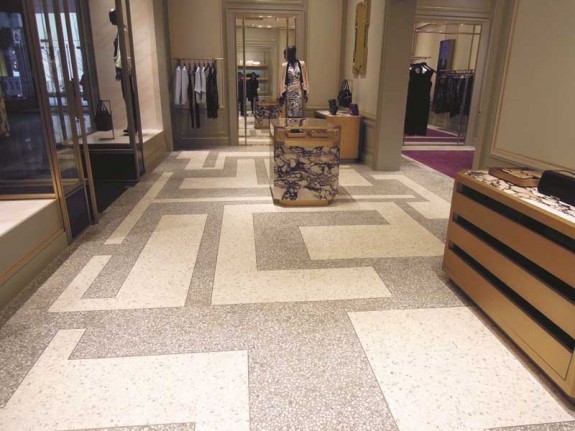 SHANGHAI, May 3, 2013/ — Opening a 130-square-meter flagship boutique in Shanghai, Emilio Pucci employed Flowcrete China to create an artistic flooring befitting the maison's trademark vibrant geometric and colorful prints.
Located in Shanghai's exclusive Citric Square Mall, the new Pucci boutique features Flowcrete China's epoxy terrazzo material, the intricate flooring pattern features an angular geometric design in a contrasting palette of dove grey and magnolia.
The design has been created by securing copper strips along the surface of the substrate in the desired pattern and later installing the terrazzo material to the edges of the appropriate blocks.
Designed to complement the stores aqua hues, the floor finish – after being diamond ground in situ – exposes a wealth of decorative aggregates including mother-of-pearl and marble chippings to provide an eye-catching platform underfoot.
Delighted with the outcome of the project at Pucci, Managing Director for Flowcrete China, Francis Tan, said: "The new Pucci store represents the brand's first venture into mainland China bringing the spirit of Renaissance Italy to the growing Chinese fashion market.
"The terrazzo material looks fantastic, serving as the perfect backdrop to showcase Pucci's latest collection of designer wear, scarves, handbags and shoes."
Describing this new and exciting Chinese market as the future of fashion, the brand has since announced plans to launch 5 further stores in China over the next five years, with the next store opening in Beijing.