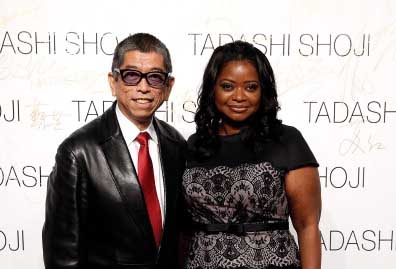 DALLAS, Apr 26, 2013/ — After successfully presenting a critically acclaimed Fall 2013 collection in New York last February, designer Tadashi Shoji once again is once again hitting the fashion headlines with the opening of his Beijing flagship store.
The 2,357 square feet boutique is located at the historic Parkview Green in the Fangcaodi (literally in Chinese, "green, grassy area") distirct on the south side of Chaowai Avenue.
Known for being environmentally friendly, Parkview Green features ETFE film roofing, transparent glass wall and steel frame structure which provide unique levels of energy conservation and environmental protection.
The Tadashi Shoji boutique echoes Parkview Green's sentiment. The store's welcoming architecture is enveloped with mirrored paneled walls and cabinets with aviation inspired custom leather and sleek chrome furniture. A color palette of cool silvers and grays with hints of blush is seen throughout the store.
Designer Tadashi Shoji officially opened the store with Octavia Spencer. Notable attendees include China's most recognizable faces – actress Carina Lau, actress Liu Xiyuan, actress Tian Harong, actress Tong Yao, DJ Mai Mai, singer Apple Hong and Taiwanese singer Julia.
Wearing a Tadashi Shoji original from the FW13 Runway Black/Pale Pink Neoprene Cap Sleeve Gown With Lace Overlay and Leather Belt, Olivia Spencer told reporters, "I am so honored to be in Beijing to celebrate this landmark in Tadashi's prolific career. His designs are timeless, elegant and as unique as his personality. I'm thrilled to call him a friend."