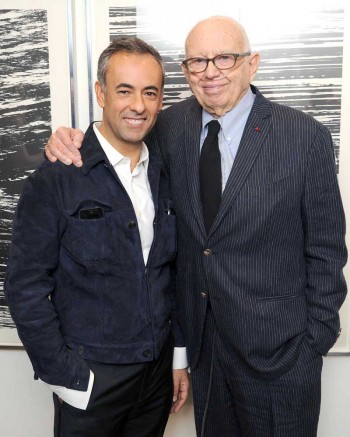 NEW YORK, May 12, 2013/ — At Calvin Klein Collection, it is the meeting of the minds of two great creators – the award-winning Women's Creative Director, Francisco Costa, has partnered with world-renowned artist, Ellsworth Kelly, for a unique museum collaboration combining fashion and art in honor of Mr. Kelly's 90th birthday on May 31st.
For this special project, Mr. Kelly selected Mr. Costa to recreate and modernize a minimal, color block dress that was originally designed by Mr. Kelly in 1952.
Through their shared understanding and appreciation for shape, color and form, they created an updated version of the dress.
The dress will be reproduced in a limited edition and donated to the Metropolitan Museum of Art's Costume Institute and the Philadelphia Museum of Art, which owns the artwork which inspired the creation of the original dress.
"In the Spring of 1952 when I was in the south of France, I decided to make artwork with colored fabric instead of canvas. When the work was finished, I gave the leftover fabric with a collage of four equal colors to a friend for her to make a dress," said Mr. Kelly.
"I am especially grateful to work with Francisco and Calvin Klein Collection on this collaboration and finally see my dress the way I had envisioned it sixty years ago."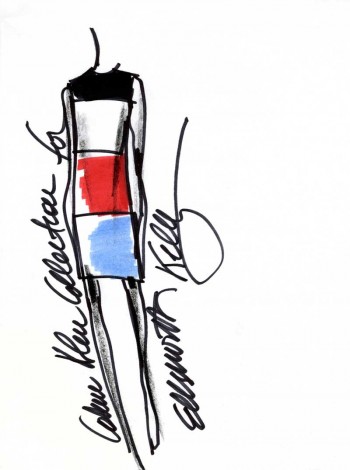 "I have been a long-time admirer of Ellsworth's work, so I was very excited and honored when I was approached about the project," Mr. Costa said. "In working with Ellsworth on this dress, I was constantly invigorated by his energy, creativity and precision, and by how our design approaches seemed to complement each other so well. It was a very inspiring experience and I was thrilled to have the opportunity to collaborate with him, and to also celebrate this significant milestone in his life."
The original 1952 dress was inspired by Mr. Kelly's painting, Red Yellow Blue White (1952), composed of 25 colored fabric panels instead of painted canvas, divided into five columns of five panels each, and currently in the Philadelphia Museum of Art's collection.
Creating a more modern take on the dress, Mr. Costa and Mr. Kelly reimagined the silhouette as a pure, linear shift in a sophisticated double weave cotton/nylon stretch fabric.
The color palette was also intensified, mixing the classic black and white with a bolder red and vibrant French blue. Shoulder and side zippers were added for functionality as well.
When Mr. Kelly first set out to redesign the 1952 dress nearly sixty years after he created it, he approached Harold Koda, the Metropolitan Museum of Art Costume Institute's Curator in Charge, about the idea and Mr. Koda suggested Mr. Costa for the venture.
Mr. Kelly also enlisted Sharon Coplan Hurowitz, founder of the Coplan Hurowitz Art Advisory, to facilitate and consult on the project.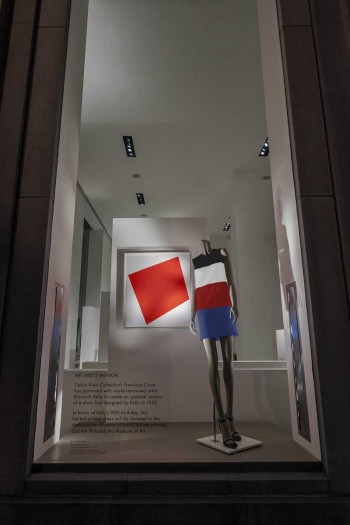 On viewing the extraordinary result, Mr. Koda noted, "The intersection of art and fashion has been seen before, but a garment by an artist that originates at the same time as the development in his work of a radically new creative strategy is unprecedented. I cannot think of another example where fashion and art share their DNA so completely. Ellsworth Kelly with the collaboration of Francisco Costa has re-created his 1952 dress for the historical record, but more importantly, as the earlier work had not been made to his specifications, has realized with Francisco's technical virtuosity a re-visiting of the design that now conforms, authentically, to his original concept."
In celebration of the collaboration, the limited edition dress is now featured prominently in the Madison Avenue window of the Calvin Klein Collection global flagship store at 654 Madison Avenue in New York City.
The dress will be complemented by several works of Mr. Kelly, which will be on view in the main window and in the entrance, through May 15th. These limited edition lithographs include the iconic Untitled (Red), 2005, and six works from the impressive series, States of the River, 2005, including The Nile, The Thames, The Mississippi, The Hudson, The Seine, and The Amazon. All of the works were curated by Ms. Hurowitz and are on loan from Gemini G.E.L at Joni Weyl.
This month, the Museum of Modern Art celebrates Mr. Kelly's 90th birthday with – "Ellsworth Kelly: Chatham Series" – an exhibition of the first series of paintings he made after leaving New York City for Spencertown, in upstate New York, in 1970.
The fourteen paintings in the Chatham Series, named after the town where his studio was located between 1970 and 1980, all feature an ell-shape made of two joined canvases of pure monochrome colors. On view from May 25th to September 9th, this marks the first time the series has been presented in its entirety since 1972.
Additionally, New York's Matthew Marks Gallery, which represents Mr. Kelly, will exhibit "Ellsworth Kelly at Ninety" featuring his newest series of paintings and sculpture in all three galleries on 22nd and 24th Streets from May 11th to June 22nd.