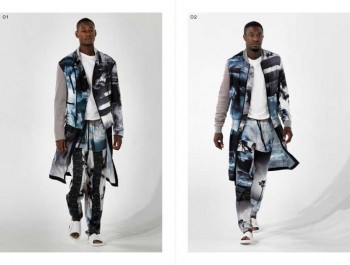 MILAN, Jun 30, 2013/ —- "The Marilyn Levena Starlight Celebrity Show will be back next week. From Hollywood California where stars make dreams and dreams make stars," this is Angelos Frentzos' L.A. dreams.
Extending this to his Spring/Summer 2014 collection, Angelos Frentzos created strong stories and identities – full pink, full green, exploding clouds of colors like the riot of flowers born in the blinding sun of the West Coast.
And true to a Hollywood inspiration, a movie is involved. Angelos Frentzos' muse is "Wild Palms", a movie by Oliver Stone. From there, the sleek elegance the surreal prints were born from Angelos Frentzos imagination.